Information
Package overview
On our Blues, Blue Ridge, and BBQ Tour, and you will find great roads, food, and music at every turn. The rolling mountain roads will have you on cloud nine, while the soulful sounds of the South penetrate to the bone. From Washington DC you will head south along the famous Blue Ridge Parkway, a 470-mile dream that will take you through the Appalachians and drop you at the base of the notorious Tail of the Dragon – 318 turns in only 11 miles! From here, we head to the Country Music capital of Nashville and then drop into the Blues history of the Deep South! These roads sing the history of America. Nightclubs, juke joints, speakeasies, and honky-tonks abound, and the mouth-watering BBQ and bourbon will satisfy the biggest of appetites. Make sure you pack your Lust for Life in your suitcase, you're gonna need it!
Included in this package
Return flights
Airport transfers
14 nights hotel accommodation
Welcome & farewell dinners
Late Model Motorcycle Rental
Bike Model Guarantee
12 days m/cycle hire
Fuel on Riding Days
Custom Armoured Riding Jacket
Breakfast on Riding Days
Experienced Tour Guide
Support Vehicle Equipped for Luggage and Spare Bike
Support Vehicle Driver
Leather-Bound Custom Road Book
EagleRider Custom Motorcycle Maps
Custom Tour Completion Patch
National Park Entrance Fees
Hotel Parking Fees
Additional insurances – In the US the basic insurance when hiring a motorcycle is like our third party and covers the minimum liability in each State which can be as low as $15,000 in some States.  The Supplementary Limited Insurance (SLI) increases your cover to $1m while the Vehicle Insurance Protection (VIPZero) covers damage to the motorcycle and limits your liability to $1,000 in the event of theft of the vehicle.  Both are included in the package.
NOT included in this package
Personal souvenirs
Beverages
Food and snacks (except welcome and farewell meals, as described)
Tips
Personal travel insurance (see below) – Please make sure that your Insurer knows that you will be driving a bike 1200cc – 2000cc in the US.
Additional info
2 persons / 1 bike / 1 room from €5,382.00 pps + tax €105.00 per person
2 persons / 2 bikes / 1 room from €7,497.00 pps + tax €105.00 per person
1 person / 1 bike / 1 room from €9,022.00 + tax €105.00 per person
                           ** prices subject to availability of flights **  
Insurance is a very important matter for everybody travelling by motorcycle. We feel therefore, that it is important that you clearly understand matters and set out the relevant information below.
1. Supplemental Liability Insurance (SLI)
All packages include a basic insurance for which the amount of cover varies from State to State. We strongly recommend that you give very serious consideration to taking the optional SLI as this increases your Liability Insurance Benefit up to US$1million. This insurance protects the renter against claims made by a Third Party for bodily injury and/or property damage sustained as a result of an accident.
2. EVIP Insurance
This policy is applicable to the motorcycle ONLY. It limits the liability of the renter:
in the event of any and all accidental damage to the motorcycle and its accessories.
the loss/theft of the vehicle provided the motorcycle was locked with all locks provided by the rental company.
in the event of mechanical breakdown requiring repair for more than 12 hours, the renter is provide with up to $75/day for a replacement rental + refund of daily rate.
covers the cost of tire repair/labour, but towing is NOT covered.
A Security Deposit of $300 will be taken upon collection of the motorcycle
IMPORTANT: A police report is required for all damages or accidents. All damages to rented motorcycle without a police report is considered the Renter's fault.
3. Personal Travel Insurance
Your travel insurance policy must include repatriation to Ireland of patients by Air Ambulance or other medically approved means of transportation where it is deemed as preferable by the Medical Adviser of the Insurance Underwriters.
Please check closely the terms of cover provided by any travel insurance policy that you are offered or already hold. In our experience, most policies only provide cover for motorcycles up to 125cc which is not sufficient as most motorcycle models in use on the EagleRider tours range between 1200cc and 1800cc.
Celtic Horizon Tours will be happy to assist in obtaining quotations for suitable travel insurance cover should you require our assistance in this matter.
What to Bring
Warm Weather Riding Gear
* Mesh Riding Jacket
* Neck Cooler/ Bandana
* Hydration Pack
Cold Weather Riding Gear
* Leather Jacket
* Wind Proof Jacket
* Wind Proof Pants
Wet Weather Riding Gear
* Waterproof Jacket
* Waterproof Pants
Protective Riding Gear
* Goggles
* Sun Glasses
* Riding Boots
* Riding Gloves
FAQ
How many people are in a group?
We allow a maximum of 15 bikes per group. At rare occasions there can be a few more bikes but if the number exceeds 15 we may add a second tour guide on a motorcycle to the group.
Will I receive some kind of information about my tour before I arrive?
A road book for each specific tour will be sent to you via email as a pdf file; the book contains all important and necessary information about your tour, route, general information, etc.
Will there be enough photo stops on a guided tour?
While one just likes to ride and is hardly to be kept off his bike another may want to stop every five minutes to get this very special photo shot. We try to find a good average of stops to accommodate everyone's needs.
Can I book additional nights before or after the tour through Celtic Horizon Tours?
Yes, we are happy to book additional accommodation before or after the tour for you. Please be aware that once an additional reservation has been made any changes or cancellation will result in a €50 handling fee per occurrence. Reservations for additional nights must be made at time of booking.
What is the weather going to be like?
If you've all been good the weather will be too…honestly, we can never be certain; this is one factor on our tours that we still haven't been able to influence. In general you can say that during mid summer months you have a 90% chance of staying dry and hot weather on any of our tours. It'll always be a little cool along the west coast and you can always expect some rain along Route 66. Please come prepared, bring your raingear and a variety of clothing to be armed for all weather conditions.
Do I have to wear a helmet?
For your own safety we require you to wear a helmet at all times when you ride a motorcycle.
Do all bikes have a windshield?
The only models that are equipped with a windshield are Electra Glide, Road Glide, Road King and Heritage Softail, and BMW. Especially during mid summer you will face very hot temperatures on your rides. A windshield will not only hold off dust and stones but also keep away direct hot air to your body.
IMPORTANT
If a person decides to travel without any travel insurance cover, they do so explicitly at their own risk, against our advice, and are deemed to absolve Celtic Horizon Tours Ltd, its employees, agents, suppliers and various affiliates of all and any responsibility and/or liability.
The prices shown are in respect of 2 pax + 1 bike sharing a twin / double room. Prices are also available on request for 2 pax + 2 bikes sharing a twin / double room, or 1 pax + 1 bike staying in a single room.
Itinerary
Day 1 - Flights Dublin – Washington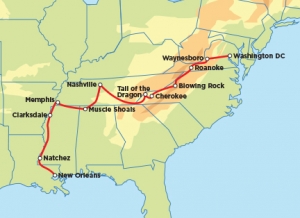 No of touring days: 16 days
No of nights in package: 14 nights
Arriving airport: Washington DC
Departing airport: New Orleans LA
Outbound
02 Oct Dublin – Washington 12.35-15.35  – Aer Lingus
Return
16 Oct New Orleans – Chicago 14.45-17.23 – American Airlines
16 Oct Chicago – Dublin 20.20-09.50 next day – Aer Lingus
Please note you arrive back in Ireland the day after the last day of the tour.
Arrival in the US Capital. Many clients like to add on a couple of days at the start of the tour in New York which is an easy train ride away from DC. Washington DC has many sights and is also a great walking city. It also houses the fantastic Smithsonian Museum which is well worth a visit.Tonight you'll meet your Tour Guides and fellow travelers at an Orientation Meeting at the hotel.
Day 2 Washington DC - Arrival 0 mls
Free time to acclimatise in Washington.
Welcome Dinner this evening.
Day 3 Washington DC - Waynesboro VA 178 mls
Picking up the bikes in the morning we hit a rural freeway with light traffic for the first hour (71 miles) leading us to the foot hills of the Blue Ridge Mountains and the famous Skyline Drive. This scenic drive leads onto the Blue Ridge Parkway and together make up a 520 mile ribbon of asphalt that winds its way without a Yield Sign or a Stop Light the whole way. Tonight we celebrate your first day on the road in the historic mountain town of Waynesboro
Day 4 Waynesboro - Roanoke VA 122 mls
Speeds are slow but the views are spectacular with your biggest issue being the amount of wildlife along the road. We have seen wild pigs and bears on this ride. Your hotel for the night is right on the edge of the parkway in rural Virginia Blue Ridge Music Museum which often has live performances.
Day 5 Roanoke - Blowing Rock NC 178 mls
Crossing into North Carolina, the whole day will be spent on the Blue Ridge Parkway with lunch in one of the many great country diners along the parkway.
Day 6 Blowing Rock - Cherokee NC (Tail of the Dragon) 182 mls
Today we head into the Great Smoky Mountains and it's all Blue Ridge all the way! And what a day with endless views out across North Carolina and the perfectly surfaced parkway leading you to one of America's greatest and most famous roads. Stop in historic Asheville for lunch or the whole day, near the base of Tail of the Dragon in Cherokee.
Day 7 Cherokee (Tail of the Dragon) - Nashville TN 256 mls
Let's just say the first 100 miles of this day will stay with you forever! We'll ride up to Deals Gap and then drop down the 318 curves in 11 miles that is the Tail of the Dragon. Make sure none of the fairings on your bike get nailed to the Tree of Shame!! We'll talk about our iconic ride at one of the back country cafes for lunch then head out for the amazing city of Nashville!
Day 8 Nashville - free day 0 mls
The Capital of Country music throws its doors wide open for us to explore! We'll use our free day to seek out some of its museums and icons, such as the Country Music Hall of Fame and the Grand Ole Opry
Day 9 Nashville - Muscle Shoals Al 172 mls
Our tour begins today as we head south and ride to the town of Lynchburg, home to the Jack Daniel's distillery and a tour of its Visitor Center. From there, we ride to the famous city of Muscle Shoals. Since the 1960s, the city has been known for music – developing the "Muscle Shoals Sound", as local recording studios (including FAME Studios in the late 1950s and Muscle Shoals Sound Studio in 1969) produced hit records that shaped the history of popular music. Tonight we'll spend along the shores of the mighty Tennessee River.
Day 10 Muscle Shoals - Memphis TN 160 mls
Today we head to Memphis!! Music lovers around the world know Beale Street, a national historical landmark which showcases the impact Memphis has had on the Blues and Jazz. Legends such as Louis Armstrong, Muddy Waters, Memphis Minnie, and most notably B.B. King, all helped develop the style known as Memphis Blues. One of the city's most important Rock and Roll icons is Sun Studio, which discovered the talents of Elvis Presley, Johnny Cash, Jerry Lee Lewis, and Roy Orbison. We'll have plenty of time to explore this amazing city.
Day 11 Memphis - Clarksdale MS 78 mls
After a leisurely morning in Memphis, we'll turn our wheels south once again. And no trip to the South is complete without visiting the blues town of Clarksdale, which preserves and promotes awareness of the Blues. On our way we'll see more Blues-influenced destinations such as the Gateway to the Blues Museum in Tunica, MS and make a stop at the "Crossroads" where Robert Johnson sold his soul to the devil. Tonight, it's cold drinks and live blues.
Day 12 Clarkesdale - Natchez MS 217 mls
Today we continue to immerse ourselves in the history of the Mississippi blues. There are tons of Blues Trail Markers to hit today, as well as some incredibly preserved "Juke Joints" such as Po' Monkeys in Marigold. We'll ride through plantations of cotton and have lunch where Teddy Roosevelt got his famous name! The food, well, that goes without saying. It's a menu of soul food, BBQ, and sweet tea. Tonight, we get to explore the great blues town of Natchez, on the banks of the Mississippi.
Day 13 Natchez - New Orleans LA 192 mls
Today we begin our ride rolling through the backroads of Mississippi before dropping into our final state, Louisiana. We'll roll into New Orleans by way of the Lake Pontchartrain Causeway, at 28 miles it is the longest bridge over water in the world! Finally, we'll end our ride in the heart of the French Quarter where New Orleans retains much of its French colonial influence. This unique American city is famous around the world for its culture, cuisine, and music.
Day 14 New Orleans - Plantation Ride 160 mls
We'll spend the day exploring some backcountry bayous and antebellum (pre-Civil War) Plantations and gardens, soaking in the landscape and cultural history of the American South. We'll return to N'awlins for some live jazz music, and one last night on the town at our epic Farewell Dinner!
Day 15 New Orleans LA Departure
We hope you had a wonderful tour with Celtic Horizon Tours and we'll see you on your next great motorcycle adventure!
Triple B PLUS - Blue Ridge, Blues and BBQ
America
Wednesday, 2nd October 2019
7617
Departure Dates Listed
Package Prices
Adults€5,487.00 per person
Children €5,487.00 per person
Customer Protection Bond 3% is not included and will be calculated at checkout. This Client Protection Policy protects our clients in the event of supplier business failure. All bookings and transactions are subject to this charge. This charge is applicable to EU residents only.
sold out
Similar packages