Information
Package overview
If you only have a short time to ride, but want to pack in the absolute best stops in the American Southwest, look no further than our Southwest Explorer Motorcycle Tour. You will be the envy of your friends and family as you pack a lifetime worth of memories in to eight incredible riding days. Celtic Horizon Tours is celebrating our 20th year in motorcycle travel and tours, and we still have not found a better way to spend a week on the road that with our Southwest Explorer. What are you waiting for?
Included in this package
All hotel accommodation
Late model motorcycle rental
Unlimited mileage
Fuel on Riding Days
"Welcome" and "Farewell" dinners
Helmets for driver and passenger
Daily breakfast
Professional tour leaders
Support vehicle equipped with spare bike and room for additional luggage
All taxes, fees and environmental surcharges
National park entrance fees
Hotel parking fees
Discounted activities
One Way Transfer fees (when applicable)
Transportation between the hotel and the EagleRider location
Custom riding jacket
NOT included in this package
Flights
Personal souvenirs
Beverages
Food and snacks (except welcome and farewell meals, as described)
Tips
Personal travel insurance (see below)
SLI Insurance (see below)
EVIP insurance (see below)
Additional info
2 persons / 1 bike / 1 room from €2,650.00 pps
2 persons / 2 bikes / 1 room from €3,560.00 pps
1 person / 1 bike / 1 room from €4,200.00
Insurance is a very important matter for everybody travelling by motorcycle. We feel therefore, that it is important that you clearly understand matters and set out the relevant information below.
1. Supplemental Liability Insurance (SLI)
All packages include a basic insurance for which the amount of cover varies from State to State. We strongly recommend that you give very serious consideration to taking the optional SLI as this increases your Liability Insurance Benefit up to US$1million. This insurance protects the renter against claims made by a Third Party for bodily injury and/or property damage sustained as a result of an accident.
2. EVIP Insurance
This policy is applicable to the motorcycle ONLY. It limits the liability of the renter:
in the event of any and all accidental damage to the motorcycle and its accessories.
the loss/theft of the vehicle provided the motorcycle was locked with all locks provided by the rental company.
in the event of mechanical breakdown requiring repair for more than 12 hours, the renter is provide with up to $75/day for a replacement rental + refund of daily rate.
covers the cost of tire repair/labour, but towing is NOT covered.
A Security Deposit of $300 will be taken upon collection of the motorcycle
IMPORTANT: A police report is required for all damages or accidents. All damages to rented motorcycle without a police report is considered the Renter's fault.
3. Personal Travel Insurance
Your travel insurance policy must include repatriation to Ireland of patients by Air Ambulance or other medically approved means of transportation where it is deemed as preferable by the Medical Adviser of the Insurance Underwriters.
Please check closely the terms of cover provided by any travel insurance policy that you are offered or already hold. In our experience, most policies only provide cover for motorcycles up to 125cc which is not sufficient as most motorcycle models in use on the EagleRider tours range between 1200cc and 1800cc.
Celtic Horizon Tours will be happy to assist in obtaining quotations for suitable travel insurance cover should you require our assistance in this matter.
What to Bring
Warm Weather Riding Gear
* Mesh Riding Jacket
* Neck Cooler/ Bandana
* Hydration Pack
Cold Weather Riding Gear
* Leather Jacket
* Wind Proof Jacket
* Wind Proof Pants
Wet Weather Riding Gear
* Waterproof Jacket
* Waterproof Pants
Protective Riding Gear
* Goggles
* Sun Glasses
* Riding Boots
* Riding Gloves
FAQ
How many people are in a group?
We allow a maximum of 15 bikes per group. At rare occasions there can be a few more bikes but if the number exceeds 15 we may add a second tour guide on a motorcycle to the group.
Will I receive some kind of information about my tour before I arrive?
A road book for each specific tour will be sent to you via email as a pdf file; the book contains all important and necessary information about your tour, route, general information, etc.
Will there be enough photo stops on a guided tour?
While one just likes to ride and is hardly to be kept off his bike another may want to stop every five minutes to get this very special photo shot. We try to find a good average of stops to accommodate everyone's needs.
Can I book additional nights before or after the tour through Celtic Horizon Tours?
Yes, we are happy to book additional accommodation before or after the tour for you. Please be aware that once an additional reservation has been made any changes or cancellation will result in a €50 handling fee per occurrence. Reservations for additional nights must be made at time of booking.
What is the weather going to be like?
If you've all been good the weather will be too…honestly, we can never be certain; this is one factor on our tours that we still haven't been able to influence. In general you can say that during mid summer months you have a 90% chance of staying dry and hot weather on any of our tours. It'll always be a little cool along the west coast and you can always expect some rain along Route 66. Please come prepared, bring your raingear and a variety of clothing to be armed for all weather conditions.
Do I have to wear a helmet?
For your own safety we require you to wear a helmet at all times when you ride a motorcycle.
Do all bikes have a windshield?
The only models that are equipped with a windshield are Electra Glide, Road Glide, Road King and Heritage Softail, and BMW. Especially during mid summer you will face very hot temperatures on your rides. A windshield will not only hold off dust and stones but also keep away direct hot air to your body.
IMPORTANT
If a person decides to travel without any travel insurance cover, they do so explicitly at their own risk, against our advice, and are deemed to absolve Celtic Horizon Tours Ltd, its employees, agents, suppliers and various affiliates of all and any responsibility and/or liability.
The prices shown are in respect of 2 pax + 1 bike sharing a twin / double room. Prices are also available on request for 2 pax + 2 bikes sharing a twin / double room, or 1 pax + 1 bike staying in a single room.
Itinerary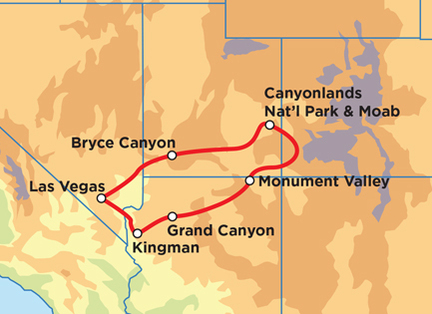 Day 1 - Las Vegas, NV - Arrival 0 mls
Departure Dates:
May 21st, 2021
June 4th 2021
Sept 10th 2021
Oct 8th 2021
No of touring days: 9 days
No of nights in package: 8 nights
Arriving airport: Las Vegas NV
Departing airport: Las Vegas NV
Please note you arrive back in Ireland the day after the last day of the tour.
Viva Las Vegas! Let us know if you'd like to do some sightseeing in 'Sin City', and we will be happy to arrange a few extra days at our tour hotel for you. Tonight you'll have a chance to meet your fellow riders and guide team at a detailed Orientation Meeting, followed by a great meal and some cold drinks at the tour's Welcome Dinner on the Las Vegas Strip.
Day 2 - Las Vegas NV - Kingman AZ 155 mls/ 248km
Grab your Harley motorcycle and let's hit the road! We'll see great views of Hoover Dam on our way to lunch in the historic, old west mining town of Oatman, Arizona where wild donkeys still roam the streets. Oatman marks the beginning of our journey along Historic Route 66, which we'll enjoy over the next few days. Tonight we'll have some fun and kick back in the Route 66 town of Kingman where cold beers and giant steaks are calling.
Day 3 - Kingman AZ - Grans Canyon National Park AZ 185 mls/ 296km
Get your kicks on Route 66! The perfect motorcycle riding day lies ahead, along the longest and best-preserved stretch of the original 'Mother Road' that still exists. As we cruise through towns like Hackberry, Peach Springs and Seligman, you might feel a sense of going back in time: with the vast, open landscapes surrounding you, and long freight trains rolling by, it will be easy to imagine what auto travel on America's Main Street was like in generations past. If you have ever dreamed of witnessing the sunset over the rim of the Grand Canyon, your dream is about to come true. The view of this astounding sight will leave you speechless and awestruck!
Day 4 - Grand Canyon AZ - Monument Valley AZ 160 mls/ 256km
Start your day with a journey along the South Rim of the Grand Canyon before setting your sights on another iconic destination: Monument Valley. We'll continue riding across the majestic Arizona landscape, and we can end the day with a jeep tour of this Natural Wonder of the World. If conditions and weather allow, we may even be able to arrange dinner and some evening entertainment, with a live performance of traditional music and dance by our friends from the Navajo Nation. It doesn't get any more authentic than this!
Day 5 - Monument Valley AZ - Canyonlands National Park & Moab UT 170 mls/ 272km
It's starting to feel a bit like a dream now, as each day seems to be better than the next. Our tour of famous US National Parks continues, adding our third and fourth parks in the same place. Words often fall short of describing such wondrous cliffs, mesas, and buttes – you must see it to believe it! We will spend two nights in Moab, amidst the red rocks, black night skies, and brilliant white stars. This truly is the beating heart of Utah canyon country. Slow yourself down, relax, and feel the pulse of the Great American Southwest.
Day 6 - Moab UT - Exploration Day 0 mls
Moab is home to several kinds of outdoor activities: hike the trails in either Arches or Canyonlands National Parks, rent a mountain bike (or a dirt bike or quad!) and tear through the wilderness, take a Hummer tour across the slick sandstone rocks, go kayaking on the Colorado River – or just hang around the pool for the day. Tonight is a time to recharge your batteries and get ready for the fantastic, final leg our motorcycle tour!
Day 7 - Moab UT - Bryce Canyon National Park, UT 270 mls/ 432km
We are going to get an early start today, as we have plenty of miles, as well as gorgeous scenery, to cover today. First up is Capitol Reef National Park; followed by the Grand Staircase-Escalante National Monument, both in central Utah, on some of the prettiest backroads in the USA. Our stop for the night is Bryce Canyon National Park, which has the most bizarre rock formations (called hoodoos) you will see on the tour. This day will go down as one of the great motorcycle riding days of your lifetime!
Day 8 - Bryce Canyon UT - Las Vegas NV 240 mls/ 384km
On our final morning together, feel free to join us to witness a stunning sunrise over Bryce Canyon or relax with a cup of coffee in the lodge before we start our journey back to Las Vegas. Our main highlight today is the spectacular landscape of Zion, one of the crown jewels of America's National Park system. Vibrant red and white rock walls and cliffs stretch thousands of feet toward the sun overhead, as we cruise through the river valleys of this astonishing place. After a final ride through the desert of southern Nevada, we'll return our beloved bikes at our EagleRider Las Vegas office, and head to the hotel to get cleaned up before our crazy dinner and celebration tonight. This has been an unforgettable ride together, and tonight we'll share stories, experiences, and new friendships that will last a lifetime.
Day 9 - Las Vegas NV - Departure 0 mls
Depart any time or let us know if you need an extra night or two. All that is left now is to decide where we are riding together next year! Safe travels home, see you next time!
Southwest Canyon Country Motorcycle Tour
America
Friday, 21st May 2021
Departure Dates Listed
Package Prices
Adults€2,650.00 per person
Children €2,650.00 per person
Customer Protection Bond 3% is not included and will be calculated at checkout. This Client Protection Policy protects our clients in the event of supplier business failure. All bookings and transactions are subject to this charge. This charge is applicable to EU residents only.
sold out
Similar packages