Information
Package overview
Exclusively for Second Time Arounders  and Boston Crusaders Alumni
Included in this package
• 5 night's four-star hotel accommodation
• Full cooked & buffet breakfast served daily.
• 3-course welcome dinners on your first and third evenings.
• A Barbeque in Seans Bar, the oldest bar in the world.
• 6 Days luxury touring coach hire
• 6 Days services of a professional Tour Director
• All local taxes and service charges
• All Tips and Gratuities
• Admissions to: Strokestown House, Sheepdog Demonstration, Kylemore Abbey, Cliffs of Moher, Bunratty Castle, Athlone Castle, Clonmacnoise
NOT included in this package
• Airfare
• Single Room Supplement @ €260.00
• Meals other than as listed
• Porterage
• Travel insurance
• Additional baggage or over-sized items
Itinerary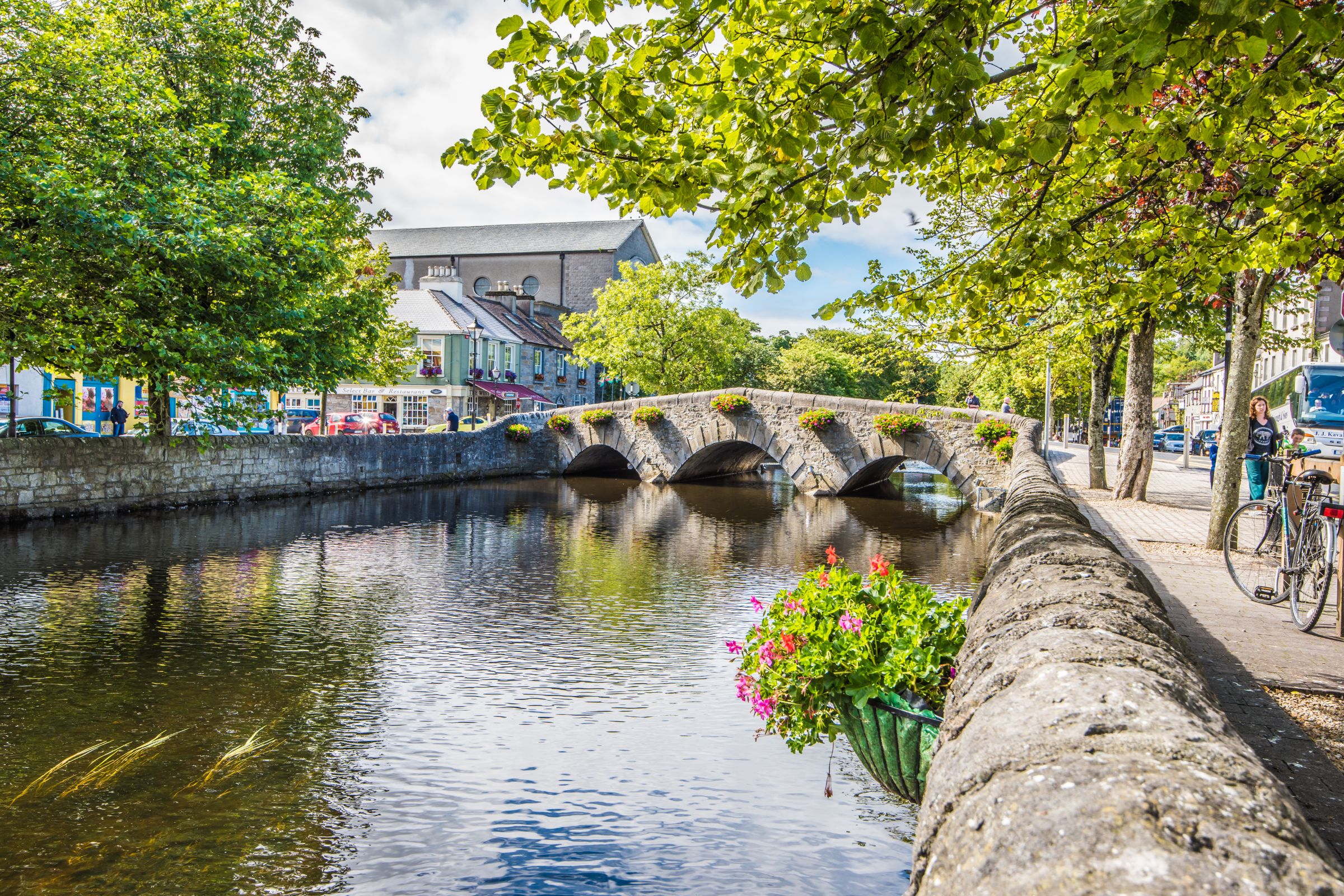 Day 1: Saturday, March 19th
Travel to Westport, Mayo via
Visit Strokestown House
The House was the family home of the Pakenham Mahon family and is built on the site of the 16th century castle, home of The O Conor Roe Gaelic Chieftains. The Landlord Major Denis Mahon was assassinated in November 1847 at the height of The Great Famine of Ireland and it is fitting that The Irish National Famine Museum was established at Strokestown Park in 1994 using the unique original documents which came to light during the restoration of The House.
Visit Foxford Woolen Mills
Foxford Woollen Mills Visitor Centre, in County Mayo, is where master craftsman meets modern Irish design. Originally founded by an Irish Sister of Charity in 1892, the fledgling business overcame many challenges down through the years in order to survive. Today, it is a thriving mill with master craftspeople creating beautiful pieces for sale worldwide.
Check-in to Hotel Westport for 2 nights
Enjoy dinner in a local restaurant this evening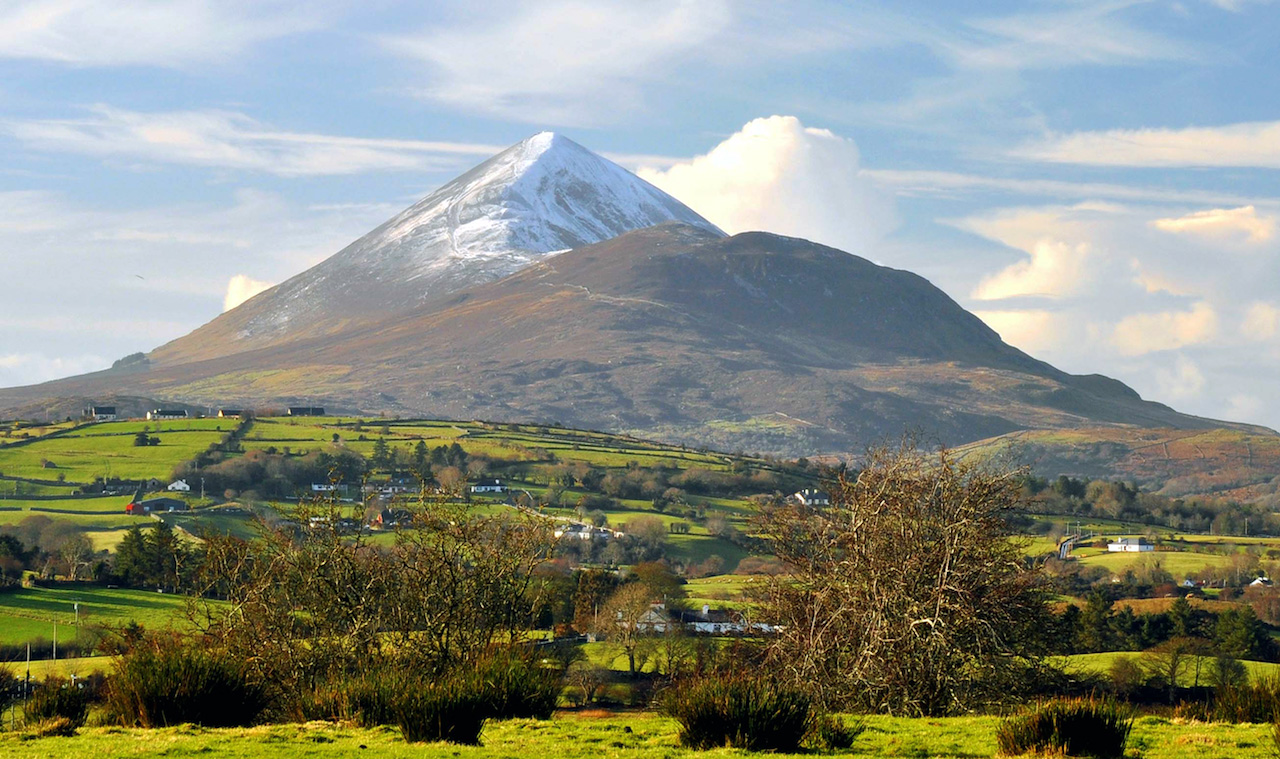 Day 2: Sunday, March 20th
St. Patricks Trail Tour
Heading east this morning we first visit Ballintubber Abbey
Ballintubber Abbey was founded by King Cathal Crovdearg O'Conor – Cathal Mór of the wine-red hand. He was of the royal race of the O'Connors, King of Connacht and notable patrons of the arts. The Cross of Cong, one of our national treasures, was designed for his father, Turlach O'Connor. Though there are many references in the ancient annals to 1216 as the year of its foundation, the circumstances are shrouded in legend. Cathal was the natural son of King Turloch. Before he ascended the throne of his father he was in flight from the vengeance of Turloch's queen.
From there we take the short journey to the village of Aghagower.
The Irish heritage village of Aghagower, once a powerful medieval monastery because of its' location on the pilgrimage route from Ballintubber to Croagh Patrick, today is a tiny quiet village on a lesser road and 8km from Westport, County Mayo. The village features the remnants of an early medieval monastic site, similar to, but much smaller than Clonmacnoise, County Offaly. Left of the settlement today is a round tower, church, and graveyard featuring ancient grave stones all preserved on an island right in the centre of the village.
There is also a round 'bath' which might have been a place for pilgrims to wash their feet, and a (dried up) well with a very small and weather beaten Sheela Na Gig.
It is reputed that St Patrick departed from Aghagower to start his 40 days and nights of fasting on Croagh Patrick
Visit Croagh Patrick
Croagh Patrick's history as a place of worship reaches back in time as far as 3,000 BC. The mountain's popularity among religious pilgrims dates to the time of St. Patrick, who is said to have completed a forty-day Lenten ritual of fasting and penance here. Legend also has it that Croagh Patrick is the mount from which he banished snakes from Ireland forever!
Sheep Dog Demonstration – Louisbourgh
Sheep Herding is an important part of agricultural life in Ireland. At this display you will experience a long range sheep herding display, up close sheep herding, an opportunity to feed baby lambs, and a short talk on why we have techni-coloured sheep in Ireland!!
Evening
Time at leisure in Westport – Dinner at own expense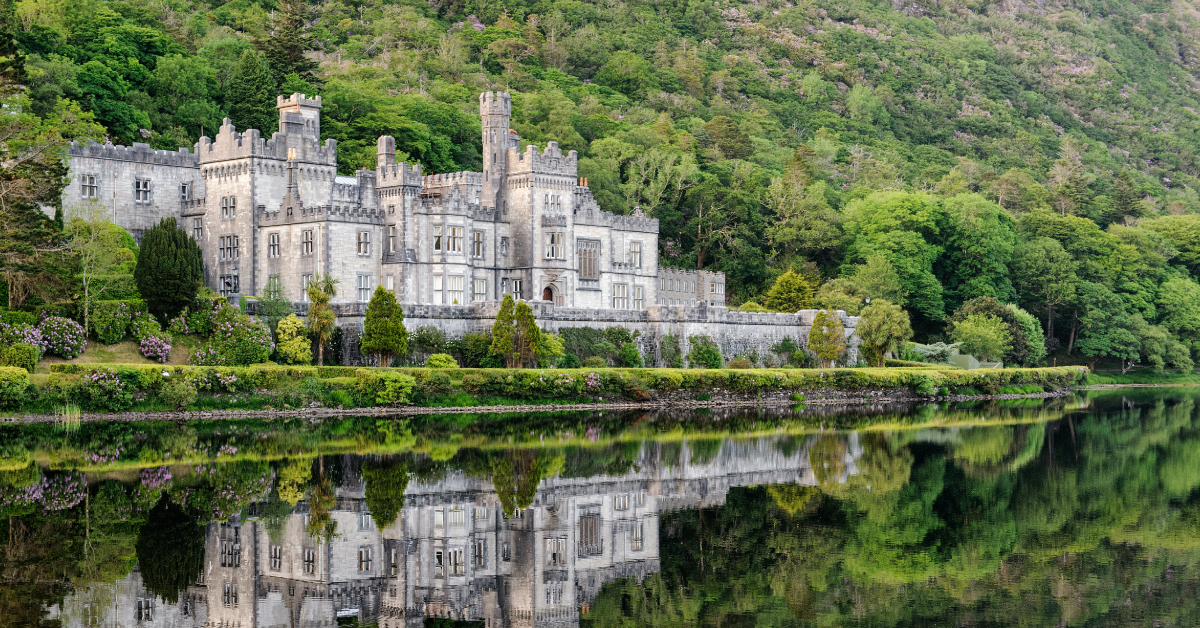 Day Three: Monday, March 21st
Visit Leenane – The location of "The Field"
Our tour will make it's first stop at the location of the 1990 Oscar nominated movie "The Field" based on John B. Keanes 1965 play of the same name. The movie, staring Richard Harris, Brenda Fricker and a young Sean Bean focuses on the "Bull" McCabe (Richard Harris) and his obsession with land that has been in his care for generations.
Visit Kylemore Abbey
One of Ireland's best loved and most iconic tourist attractions. Visit the restored rooms of Kylemore Abbey and learn about its history of tragedy, romance, education, innovation and spirituality. Explore the 6 acre Victorian Walled Garden with its delightfully restored  garden buildings. Discover woodland and lakeshore walks that will take you on a beautiful journey through this 1000 acre estate.
Visit Cong – The location of "The Quiet Man"
Cong , the beautiful village straddling the borders of Co. Galway and Co. Mayo is famous internationally for the 1952 Oscar-winning movie, The Quiet Man, featuring John Wayne and Maureen O'Hara. In addition, Cong is also home to Ashford Castle and Cong Abbey where the last High King of Ireland, Rory O'Connor spent his last years.
Evening
Check in to The Galmont Hotel Galway city centre for 2 nights
Dinner in a local restaurant in Galway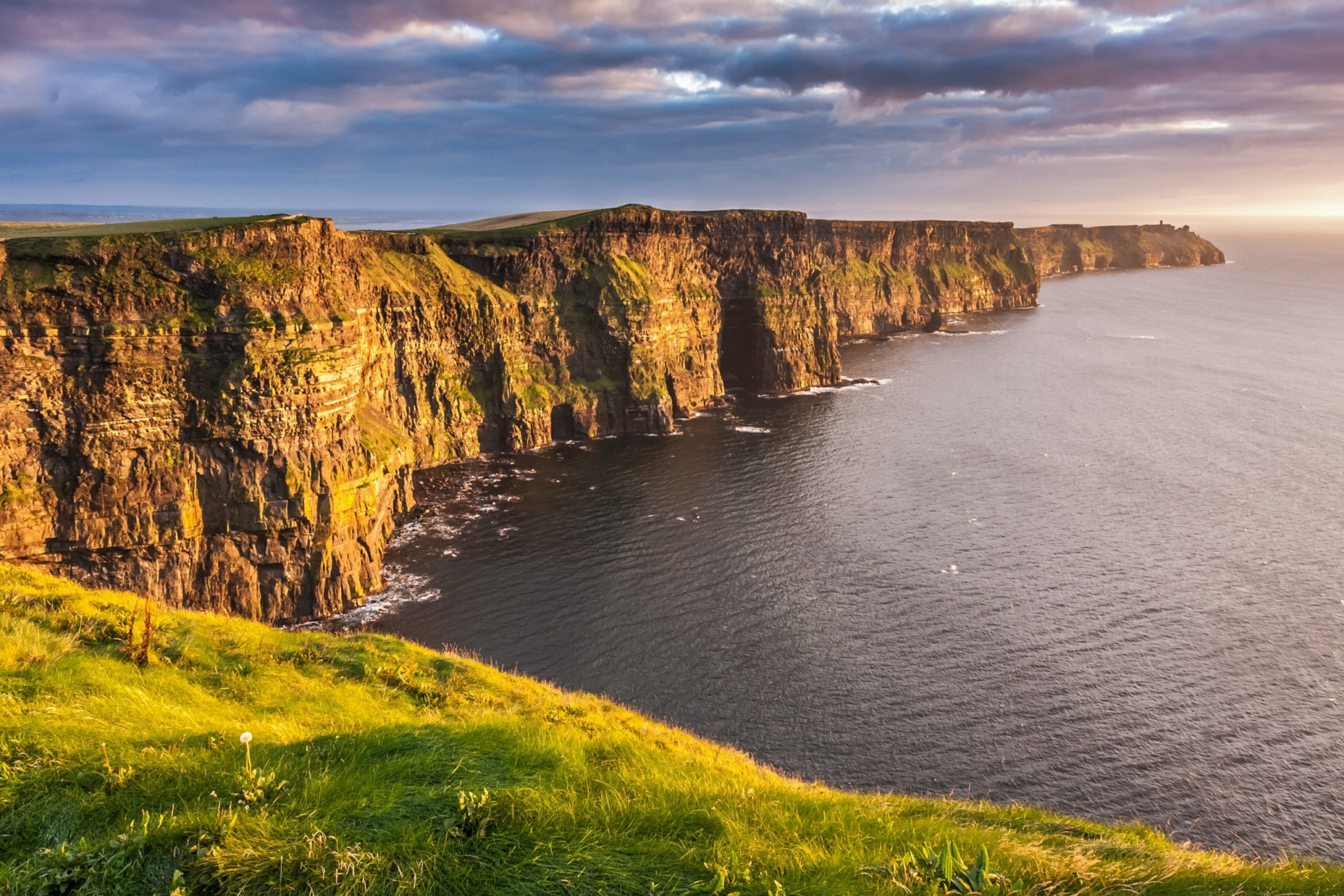 Day Four: Tuesday, March 22nd
Visit the Cliffs of Moher
Step on to the edge of the world and into an awe-inspiring view that dreams are made of – at the Cliffs of Moher you will encounter nature in its wildest, purest form – see the rugged cliffs facing the mighty ocean, taste the salt air, hear the birds cry, feel the ancient rocks beneath your
Burren Tour
The Burren is an area close to 125 square miles of limestone rock covering imposing majestic mountains and tranquil valleys with gently meandering streams. This is a distinctive landscape on the Western seaboard of Ireland and has been inhabited for over six thousand years. With its innate sense of spiritual peace, extraordinary array of flora and wildlife, and megalithic tombs and monuments older than Egypt's pyramids, the Burren creates a tapestry of colour which few people leave without wanting to experience again.Visit
Bunratty Castle
Bunratty Castle, the most complete and authentic medieval castle in Ireland. Built in 1425, it was restored in 1954 to its former medieval splendour and now contains mainly 15th and 16th-century furnishings, tapestries, and works of art which capture the mood of those times.
Evening
Time at leisure in Galway City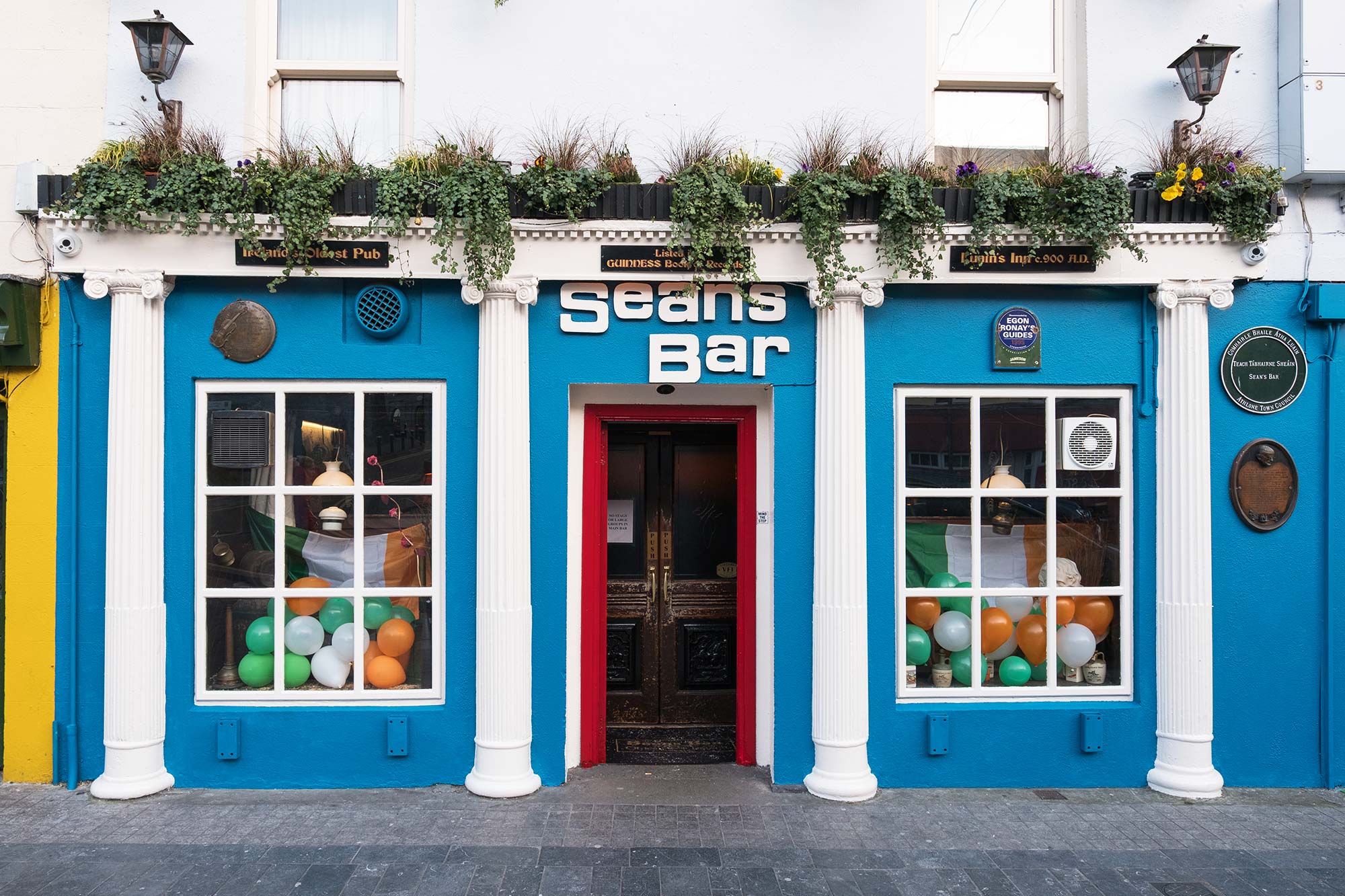 Day 5: Wednesday, March 23rd
After a late morning departure to facilitate some retail therapy time in Galway we head for Clonmacnoise.
Clonmacnoise
St Ciarán founded his monastery on the banks of the River Shannon in the 6th Century.  The monastery flourished and became a great seat of learning, a University of its time with students from all over Europe.
The ruins include a Cathedral, two round Towers, three high crosses, nine Churches and over 700 Early Christian graveslabs.  The original high crosses, including the magnificent 10th century Cross of the Scriptures area on display in a purpose built visitor centre adjacent the monastic enclosure.  An audiovisual presentation will give you an insight into the history of this hallowed space.
Travel to Athlone
We return to Athlone at the heart of the Irish midlands. The River Shannon splits this former garrison town in two, with most businesses and services sitting on its eastern bank. In the shadow of Athlone Castle, the western bank is an enchanting jumble of twisting streets, colourfully painted houses, historic pubs, antique shops and more.
Check-in to the Sheraton Hotel, Athlone for our last evening together
BBQ: Sean's Bar
Sean's Bar dates from 900 ad and is not only the oldest bar in Ireland, but also in Europe and possibly the World. This was officially certified by The Guinness Book of World Records using archaeological evidence taken from the wattle and daub walls.

Day 6: Thursday, March 24th
Your hotel is a 90 minute to Dublin Airport
Post Tour Extension - West Coast Tour
Mayo & Galway
Saturday, 19th March 2022
11755
5 Night Package
Package Prices
Adults€965.00 per person

Customer Protection Bond 3% is not included and will be calculated at checkout. This Client Protection Policy protects our clients in the event of supplier business failure. All bookings and transactions are subject to this charge. This charge is applicable to EU residents only.
sold out
Similar packages
Exploring Limerick, Westport, Athlone and Dublin! • Wed, 4 Sep 2024
8 Night Package • €2287 per person
Book now