Information
Package overview
Have you ever wanted to take the World Famous Route 66 Motorcycle Tour but don't have the time to enjoy the full 15 Days. We have your solution. Join our Route 66 West beginning in Albuquerque and heading West to Los Angeles. This tour has it all, Ride along the Western frontier, experiencing the classic restaurants, hotels, motels, gas stations and nostalgic landmarks, finishing at the End of the Road in Santa Monica.
Included in this package
Flights Dublin – Albuquerque/ Los Angeles – Dublin
Late Model Motorcycle Rental
Bike Model Guarantee
Free Grand Canyon Helicopter Tour
3-4 Star Motorcycle Friendly Hotels
Breakfast on Riding Days
Fuel on Riding Days
Custom Armoured Riding Jacket
Hosted Welcome Dinner
Half-Shell Helmets for Rider & Pillion
EagleRider Legendary Farewell Dinner
Experienced Multilingual Tour Guide
Support Vechile Equipped for Luggage and Spare Bike
Door to Door Luggage Service
Mobile Tour Guide App
Custom Tour Completion Patch
National Park Entrance Fees
Hotel Parking Fees
Toll Fees
Transportation between Tour Hotel and EagleRider locations
SLI Insurance (liability cover up to US$300,000)
VIP-Zero Insurance cover for your motorcycle
NOT included in this package
Flight Taxes @ €296.00 – Prices can vary according to Flight availability and exchange rates
Personal souvenirs
Beverages
Food and snacks (except welcome and farewell meals, as described)
Tips
Personal travel insurance (see below)
Additional info
2 persons / 1 bike / 1 room from * €3,625.00 pps
2 persons / 2 bikes / 1 room from * €5,065.00 pps
1 person / 1 bike / 1 room from * €5,635.00
Prices can vary according to Flight availability and exchange rates
Insurance is a very important matter for everybody travelling by motorcycle. We feel therefore, that it is important that you clearly understand matters and set out the relevant information below.
1. Supplemental Liability Insurance (SLI)
All packages include a basic insurance for which the amount of cover varies from State to State. in addition, we also automatically include SLI as this increases your liability insurance Benefit up to US$3000,000. This insurance protects the renter against claims made by a Third Party for bodily injury and/or property damage sustained as a result of an accident.
2. EVIP Insurance
This policy is applicable to the motorcycle ONLY. It limits the liability of the renter:
in the event of any and all accidental damage to the motorcycle and its accessories.
the loss/theft of the vehicle provided the motorcycle was locked with all locks provided by the rental company.
in the event of mechanical breakdown requiring repair for more than 12 hours, the renter is provide with up to $75/day for a replacement rental + refund of daily rate.
covers the cost of tire repair/labour, but towing is NOT covered.
A Security Deposit of $300 will be taken upon collection of the motorcycle
IMPORTANT: A police report is required for all damages or accidents. All damages to rented motorcycle without a police report is considered the Renter's fault.
3. Personal Travel Insurance
Your travel insurance policy must include repatriation to Ireland of patients by Air Ambulance or other medically approved means of transportation where it is deemed as preferable by the Medical Adviser of the Insurance Underwriters.
Please check closely the terms of cover provided by any travel insurance policy that you are offered or already hold. In our experience, most policies only provide cover for motorcycles up to 125cc which is not sufficient as most motorcycle models in use on the EagleRider tours range between 1200cc and 1800cc.
Celtic Horizon Tours will be happy to assist in obtaining quotations for suitable travel insurance cover should you require our assistance in this matter.
What to Bring
Warm Weather Riding Gear
* Mesh Riding Jacket
* Neck Cooler/ Bandana
* Hydration Pack
Cold Weather Riding Gear
* Leather Jacket
* Wind Proof Jacket
* Wind Proof Pants
Wet Weather Riding Gear
* Waterproof Jacket
* Waterproof Pants
Protective Riding Gear
* Goggles
* Sun Glasses
* Riding Boots
* Riding Gloves
FAQ
How many people are in a group?
We allow a maximum of 15 bikes per group. At rare occasions there can be a few more bikes but if the number exceeds 15 we may add a second tour guide on a motorcycle to the group.
Will there be enough photo stops on a guided tour?
While one just likes to ride and is hardly to be kept off his bike another may want to stop every five minutes to get this very special photo shot. We try to find a good average of stops to accommodate everyone's needs.
Can I book additional nights before or after the tour through Celtic Horizon Tours?
Yes, we are happy to book additional accommodation before or after the tour for you. Please be aware that once an additional reservation has been made any changes or cancellation will result in a €50 handling fee per occurrence. Reservations for additional nights must be made at time of booking.
What is the weather going to be like?
If you've all been good the weather will be too…honestly, we can never be certain; this is one factor on our tours that we still haven't been able to influence. In general you can say that during mid summer months you have a 90% chance of staying dry and hot weather on any of our tours. It'll always be a little cool along the west coast and you can always expect some rain along Route 66. Please come prepared, bring your raingear and a variety of clothing to be armed for all weather conditions.
Do I have to wear a helmet?
For your own safety we require you to wear a helmet at all times when you ride a motorcycle.
Do all bikes have a windshield?
The only models that are equipped with a windshield are Electra Glide, Road Glide, Road King and Heritage Softail, and BMW. Especially during mid summer you will face very hot temperatures on your rides. A windshield will not only hold off dust and stones but also keep away direct hot air to your body.
Extras
Depart Dates;
011th, 17th, 18th May
01st, 08th, 29th June
06th, 20th July
17th, 31st August
07th, 13th, 14th, 21st September
12th October
Please contact our office for prices on the above dates.
We also have Motorcycle Tours available in Australia, South Africa, Italy and Morocco – please contact our office for details.
IMPORTANT
PRICES CAN VARY ACCORDING TO FLIGHT AVAILABILITY AT TIME OF BOOKING.
Rates of exchange can also fluctuate and cause prices to alter.

If a person decides to travel without any travel insurance cover, they do so explicitly at their own risk, against our advice, and are deemed to absolve Celtic Horizon Tours Ltd, its employees, agents, suppliers and various affiliates of all and any responsibility and/or liability.
The prices shown are in respect of 2 pax + 1 bike sharing a twin / double room. Prices are also available on request for 2 pax + 2 bikes sharing a twin / double room, or 1 pax + 1 bike staying in a single room.
Itinerary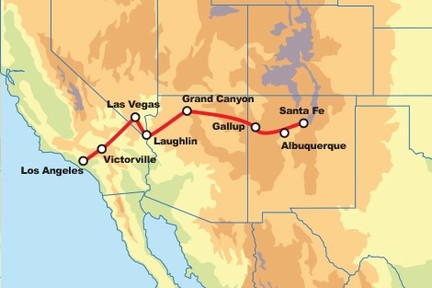 General Information
No of touring days: 9 days
No of nights in package: 8 nights
Arriving airport: Albuquerque, NM
Departing airport: Los Angeles, CA
Please note you arrive back in Ireland the day after the last day of the tour.
DAY 1 Albuquerque, NM - Arrival 0.0 mi / 0.0 km
Today you will arrive in Albuquerque and enjoy an evening at leisure.
DAY 2 Albuquerque, NM – Santa Fe, NM 65.0 mi / 104.0 km
Today your guides will meet you at the hotel and take you to our EagleRider location for pick up of your bike. Enjoy the distinctive flavor of this nearly 400-year-old city. The blend of cultures here becomes evident in the southwestern architectural style so closely associated with New Mexico's capital city. Perhaps you would like to take a ride along the river valley to the old Native American Indian town of Taos, enjoy a sunrise hot air balloon ride, or play cowboy for a day on a horseback ride along a mountain or canyon trail. Santa Fe provides all of these opportunities and more.
DAY 3 Santa Fe, NM – Gallup, NM 271.0 mi / 433.6 km
This morning you head south, down to Albuquerque, New Mexico's largest city, with a third of the state's population. Albuquerque is sprawling at the heart of New Mexico, where the main east – west road and rail routes cross both the Rio Grande and the old road south to Mexico. You cross the Rio Grande and head west – out into the open country and the hues of the Navajo wilderness. You are skirting mesas and bluffs on into Laguna. Further on ride through Grants and along Cibola National Forest towards the famous Route 66 town of Gallup – an old railroad town and Indian stronghold. Enjoy your stay tonight with a host of fellow riders from around the world at one of the many biker friendly hotels in Gallup.
DAY 4 Gallup, NM – Grand Canyon, AZ 283.0 mi / 452.8 km
Today is another huge day, full of spectacular scenery and iconic Route 66 stops. We cross the border into Arizona and ride to Petrified Forest National Park, a fossilized prehistoric forest of gigantic trees that has been unearthed by erosion. Here you will have the time to explore this stunning landscape and take a moment to get lost in the expansiveness that defines this area. Leaving Petrified Forest NP, we travel further west to the Wigwam Hotel in Holbrook, and stop to stand on the corner in Winslow! While most groups stop in Flagstaff or Williams, Arizona, we will ride on to spend our night just one mile from the South Rim of the Grand Canyon! Tonight you will sit with a cold drink in your hand and enjoy the sunset over the South Rim of the Grand Canyon. The dream is coming true!
DAY 5 Grand Canyon, AZ – Laughlin, AZ 258.0 mi / 412.8 km
For those looking to get a real "Bird's Eye View" of the Grand Canyon be sure to let us know and we will arrange a morning helicopter ride over the heart of the South Rim. Leaving the Grand Canyon, we will pick Route 66 back up in Williams, Arizona before heading to stops in the famous 66 towns of Seligman, Hackberry, Kingman, and Oatman before arriving at our Laughlin hotel on the shores of the Colorado River.
DAY 6 Laughlin, AZ – Las Vegas, NV 129.0 mi / 206.4 km
Today is a quick ride for a little detour to take in the incredible sights and sounds of Las Vegas! Our journey this morning will take us through our first real taste of the Mojave Desert, and a ride across the famous Hoover Dam! One thing is for sure, your time in Vegas may be short, but it will sure be sweet! Try to get a little bit of sleep because we pick up Route 66 tomorrow right where we left off yesterday.
DAY 7 Las Vegas, NV – Victorville, CA 282.0 mi / 451.2 km
Today we cross the border into our final State on Route 66 – California! One thing is for sure, today is a day like no other as we traverse the Mojave Desert which offers some of the most dramatic scenery in Southern California. You can imagine what it must have been like for early Route 66 travelers making their way across this huge expanse of desert, dotted with Joshua Trees, cactus, volcanic rock and sand! Tonight, we celebrate our last night on the Mother Road.
DAY 8 Victorville, CA – Los Angeles, CA 124.0 mi / 198.4 km
Today we head off for our final destination – the end of the road on the Santa Monica Pier! To get there, however, we first get to ride the 66 miles of the Angeles Crest Highway through the mountainous terrain of Angeles National Forest. This highway is considered one of the top motorcycle rides in southern California and rises to over 2300 meters. Next we descend the Crest into the Los Angeles Basin and heading towards the Pacific Ocean. Riders always have mixed emotions as they stand at the "End of the Trail" sign on the Santa Monica Pier. There is a sense of joy and elation at having completed a journey most people only dream about, and a sense of sadness at the thought of the ride having come to an end. Tonight we celebrate the miles we've ridden and the friends we made as we party together at our Farewell Dinner!
DAY 9 Los Angeles, CA - Departure 0.0 mi / 0.0 km
Today your exciting trip will conclude in Los Angeles. Please be sure to let us know if you need an extra night or two in L.A. to enjoy the sights. We can even arrange a discounted motorcycle rental! See you next year!
Route 66 - 9 Day Tour - Albuquerque to Los Angeles
America
Wednesday, 12th October 2022
3170
Departure Dates Listed
Package Prices
Adults€3,625.00 per person
Children €3,625.00 per person
Customer Protection Bond 3% is not included and will be calculated at checkout. This Client Protection Policy protects our clients in the event of supplier business failure. All bookings and transactions are subject to this charge. This charge is applicable to EU residents only.
sold out