Information
Package overview
Interested in cruising the West Coast? Do you want to experience the trip of the lifetime with the Pacific breeze in your hair and the sun on your face? If this sounds like a dream, then our Pacific Coast Guided Motorcycle Tour is the ride for you! This 15 day adventure tour kicks off in the beautiful city of Seattle, winding its way down the Pacific Coast stopping in some of the most beautiful sites in the world and finishing the tour in the beautiful seaside town of Redondo Beach. Don't miss out on this opportunity to see everything from the Humpback whales of the Pacific Northwest to the celebrity studded hills of Hollywood.
Included in this package
Return flights from Ireland
All hotel accommodation
Late model motorcycle rental
Unlimited mileage
Free fuel and oil
"Welcome" and "Farewell" dinners
Helmets for driver and passenger
Daily breakfast
Professional tour leaders
Support vehicle equipped with spare bike and room for additional luggage
All taxes, fees and environmental surcharges
National park entrance fees
Hotel parking fees
Discounted activities
One Way Transfer fees (when applicable)
Transportation between the hotel and the EagleRider location
Custom riding jacket
NOT included in this package
Flights
Personal souvenirs
Beverages
Food and snacks (except welcome and farewell meals, as described)
Tips
Personal travel insurance (see below)
EVIP insurance (see below)
Supplemental Liability Insurance (see below)
Additional info
2 persons / 1 bike / 1 room from €4,199.00 pps
2 persons / 2 bikes / 1 room from €5,999.00 pps
1 person / 1 bike / 1 room from €7,239.00
Insurance is a very important matter for everybody travelling by motorcycle. We feel therefore, that it is important that you clearly understand matters and set out the relevant information below.
1. Supplemental Liability Insurance (SLI)
All packages include a basic insurance for which the amount of cover varies from State to State. We strongly recommend that you give very serious consideration to taking the optional SLI as this increases your Liability Insurance Benefit up to US$1million. This insurance protects the renter against claims made by a Third Party for bodily injury and/or property damage sustained as a result of an accident.
2. EVIP Insurance
This policy is applicable to the motorcycle ONLY. It limits the liability of the renter:
in the event of any and all accidental damage to the motorcycle and its accessories.
the loss/theft of the vehicle provided the motorcycle was locked with all locks provided by the rental company.
in the event of mechanical breakdown requiring repair for more than 12 hours, the renter is provide with up to $75/day for a replacement rental + refund of daily rate.
covers the cost of tire repair/labour, but towing is NOT covered.
A Security Deposit of $300 will be taken upon collection of the motorcycle
IMPORTANT: A police report is required for all damages or accidents. All damages to rented motorcycle without a police report is considered the Renter's fault.
3. Personal Travel Insurance
Your travel insurance policy must include repatriation to Ireland of patients by Air Ambulance or other medically approved means of transportation where it is deemed as preferable by the Medical Adviser of the Insurance Underwriters.
Please check closely the terms of cover provided by any travel insurance policy that you are offered or already hold. In our experience, most policies only provide cover for motorcycles up to 125cc which is not sufficient as most motorcycle models in use on the EagleRider tours range between 1200cc and 1800cc.
Celtic Horizon Tours will be happy to assist in obtaining quotations for suitable travel insurance cover should you require our assistance in this matter.
What to Bring
Warm Weather Riding Gear
* Mesh Riding Jacket
* Neck Cooler/ Bandana
* Hydration Pack
Cold Weather Riding Gear
* Leather Jacket
* Wind Proof Jacket
* Wind Proof Pants
Wet Weather Riding Gear
* Waterproof Jacket
* Waterproof Pants
Protective Riding Gear
* Goggles
* Sun Glasses
* Riding Boots
* Riding Gloves
FAQ
How many people are in a group?
We allow a maximum of 15 bikes per group. At rare occasions there can be a few more bikes but if the number exceeds 15 we may add a second tour guide on a motorcycle to the group.
Will I receive some kind of information about my tour before I arrive?
A road book for each specific tour will be sent to you via email as a pdf file; the book contains all important and necessary information about your tour, route, general information, etc.
Will there be enough photo stops on a guided tour?
While one just likes to ride and is hardly to be kept off his bike another may want to stop every five minutes to get this very special photo shot. We try to find a good average of stops to accommodate everyone's needs.
Can I book additional nights before or after the tour through Celtic Horizon Tours?
Yes, we are happy to book additional accommodation before or after the tour for you. Please be aware that once an additional reservation has been made any changes or cancellation will result in a €50 handling fee per occurrence. Reservations for additional nights must be made at time of booking.
What is the weather going to be like?
If you've all been good the weather will be too…honestly, we can never be certain; this is one factor on our tours that we still haven't been able to influence. In general you can say that during mid summer months you have a 90% chance of staying dry and hot weather on any of our tours. It'll always be a little cool along the west coast and you can always expect some rain along Route 66. Please come prepared, bring your raingear and a variety of clothing to be armed for all weather conditions.
Do I have to wear a helmet?
For your own safety we require you to wear a helmet at all times when you ride a motorcycle.
Do all bikes have a windshield?
The only models that are equipped with a windshield are Electra Glide, Road Glide, Road King and Heritage Softail, and BMW. Especially during mid summer you will face very hot temperatures on your rides. A windshield will not only hold off dust and stones but also keep away direct hot air to your body.
IMPORTANT
If a person decides to travel without any travel insurance cover, they do so explicitly at their own risk, against our advice, and are deemed to absolve Celtic Horizon Tours Ltd, its employees, agents, suppliers and various affiliates of all and any responsibility and/or liability.
The prices shown are in respect of 2 pax + 1 bike sharing a twin / double room. Prices are also available on request for 2 pax + 2 bikes sharing a twin / double room, or 1 pax + 1 bike staying in a single room.
Itinerary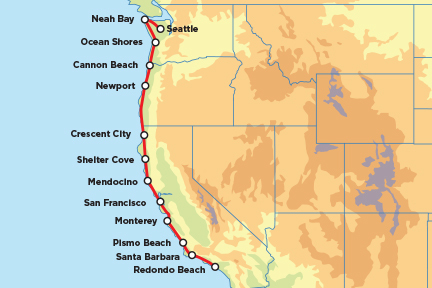 General Information
Departure Dates:
6th Jun, 2019
11th Jul, 2019
1st Aug, 2019
12th Sep, 2019
No of touring days: 15 days
No of nights in package: 14 nights
Arriving airport: Seattle, WA
Departing airport: Los Angeles, CA
Please note you arrive back in Ireland the day after the last day of the tour.
DAY 1 Seattle, WA - Arrival 0.0 mi / 0.0 km
Your tour begins with your arrival in Seattle, Washington, the emerald of the Pacific Northwest. With its distinct city skyline featuring the world renowned Space Needle, its vibrant downtown district, and regal Mount Rainier looming in the distance, this is the perfect place to begin a monumental motorcycle trip! At the tour hotel you will get a chance to meet your fellow riders and your Tour Leaders, as the ride of a lifetime is about to start!
DAY 2 Seattle, WA – Lake Quinault, WA 155.0 mi / 248.0 km
After picking up our bikes at the EagleRider office in Seattle, we'll begin our tour with a different kind of ride – a ferry ride! Locals and tourists alike pile onto the Edmond's Ferry to take them across Puget Sound an into the Olympic Peninsula. We'll wind along the coast toward Lake Quinault, on the southern side of Olympic National Park. With green forests around every turn and the cool smell of the coast in the air, you'll get your first taste of the lush Pacific coast.
DAY 3 Lake Quinault, WA – Ocean Shores, WA 160.0 mi / 256.0 km
Leave Lake Quinault we will travel south along the crashing waves of the Pacific toward the seaside city of Ocean Shores, Washington. The warm breeze calls out our name like the sirens of history as we head inland passing by Olympic National Park and Olympic National Forest before surrendering to the shore once again at today's stop in Ocean Shores.
DAY 4 Ocean Shores, WA – Seaside, OR 131.0 mi / 209.6 km
We circle North Bay as we say farewell to Ocean Shores on our way southward to Seaside, Oregon. We'll spend most of today on the infamous Pacific Highway 101 connecting Washington with its neighboring state, Oregon. This ride is definitely only for those with the spirit if adventure as we wind around the curvy inlets of the western coast spending some time on a two-lane bridge with only treacherous crashing waves below.
DAY 5 Seaside, OR – Newport, OR 109.0 mi / 174.4 km
Beautiful is the only way to describe this day's ride. Ride along the colorful cliffs of the Pacific Coast Highway with the surf to your right and the hills to your left. This is what rider's paradise looks like!
DAY 6 Newport, OR - Day at Leisure 0.0 mi / 0.0 km
Day at leisure
DAY 7 Newport, OR – Crescent City, CA 231.0 mi / 369.6 km
Today we continue down the coast to the quaint beach town of Crescent City. Named for its half-moon shaped coastline and known for its rocky seaboard, our approach into Crescent City marks our first entrance into The Golden State where we will be spending the remaining portion of our tour. While today's journey will be long, nothing is a chore when you ride alongside the sparkling Pacific coast.
DAY 8 Crescent City, CA – Shelter Cove, CA 172.0 mi / 275.2 km
Awe, respect, and admiration–these are just a few things you will experience today on our ride from the Northern California town of Crescent City through Redwood National Park on our way to Shelter Cove, CA. The Redwood trees native to this part of California are some of the tallest and most massive trees on Earth standing at over 300 feet (9144 cm) tall and some nearly 25 feet (762 cm) wide. Revel in their enormity as we make our way out of the misty fog and continue southward to the quite whale watching community of Shelter Cove.
DAY 9 Shelter Cove, CA – Mendocino, CA 101.0 mi / 161.6 km
If you can wake up early enough before we hit the road for the day, wander out to the rocky coastline with your binoculars to catch a glimpse of the whales native to those parts of the Pacific. Late risers, not to worry, the day's ride will be just as exciting as we make our way south toward Mendocino, California. We'll pass by Fort Bragg with its picturesque coastline, rugged terrain, and sapphire blue waves crashing against us. Finally we'll finish off the day arriving in Mendocino California, a haven for the artistically inclined. Spend the evening walking around the small downtown district dotted with art and music shops, "mom and pop" restaurants, and charming Bed and Breakfasts.
DAY 10 Mendocino, CA – San Francisco, CA 155.0 mi / 248.0 km
Today we head slightly inland on our way to The Golden Gate City of San Francisco, California. The scenery will begin to change as we swap ocean views and the smell of salt water for sprawling orchards and whiffs of wine. Riding into Windsor and Santa Rosa, we will welcome you to the gates of California Wine Country, home to every kinda of wine varietal from Sangiovese to Syrah and Pinot Gris to Pinot Noir. Time permitting, we may get a chance to tour a winery or stop for a tasting before we roll into the bustling metropolis of San Francisco.
DAY 11 San Francisco, CA - Free Day 0.0 mi / 0.0 km
When you wake up in this beautiful city, you will finally understand why Tony Bennett left his heart in San Francisco. The City by the Bay boasts more attractions, quaint shops and restaurants, and sites to see than possible to fit in our short stay. Make sure you visit Ghirardelli Square, one of the most popular attractions in SF where street performers will entertain you as you peak your head into small shops and street cafes famous for some of the best seafood dishes in the world. Feel free to hop on one of the street trolleys that are a moving landmark and are the heartbeat of this incredible city!
DAY 12 San Francisco, CA – Monterey, CA 120.0 mi / 192.0 km
Today we will wave goodbye to the charm of San Francisco and point our bikes south as we ride around the bay toward the mystique of Monterrey. Upon our arrival in this spectacular seaside city, spend the afternoon walking along Cannery Row lined with beautiful hotels, shops and restaurants. Be sure to leave some time to take part in the dozens of attractions around the city including the Monterrey Bay Aquarium, Pebble Beach Golf Course and abundance of beach activities. Let your inner child or your inner golf-pro run wild!
DAY 13 Monterey, CA – Pismo Beach, CA 157.0 mi / 251.2 km
We've said it once and we'll say it again: it's hard to believe that the scenery can become more beautiful, but this is one breathtaking ride! Today we'll follow along the acclaimed Highway 1 forward Pismo Beach California with the mountains on our left and the Pacific Ocean on our right. Soak up the California sun and cruise along with the salty sea breeze against your skin as re ride past Big Sur, California. It is at this point where the Santa Lucia Mountains meet the Pacific Ocean creating one of the most beautiful stretches of California coastline. Today surely promises warm breezes and exquisite sunsets as this destination provides the perfect tranquil setting with its majestic cliffs and soothing surf.
DAY 14 Pismo Beach, CA – Los Angeles, CA 176.0 mi / 281.6 km
Today we say farewell to Pismo Beach and set out sights on Southern California, home of The Beach Boys, Hollywood, some of the most beautiful natural landscapes in the entire country! Lunch today in Santa Barbara, California, referred to by many as the "American Riviera" due to its similar climate and geography to the French and Italian Rivieras. . Chrome has never looked so good as when it rolls into Redondo Beach, California adorned in EagleRider gear. Waving goodbye to Santa Barbara, we cruise the Pacific Coast Highway into Redondo Beach on our last day of riding on this incredible tour. Blend in with locals as we kick off our boots and swap our riding gear for bathing suits. Enjoy the easy livin' and the Redondo Beach lifestyle as we spend our last night together remembering all of the fun we've had along the way.
DAY 15 Los Angeles, CA - Departure 0.0 mi / 0.0 km
Before everyone goes their separate ways we'll meet for breakfast and reminisce the incredible memories we've shared over the past two weeks. It's hard to believe that our time together is over, but know that we'll always keep a space open for you on another ride of your dreams!
Pacific Coast - 15 Day Tour
America
Thursday, 12th September 2019
Departure Dates Listed
Package Prices
Adults€4,199.00 per person
Children €4,199.00 per person
Customer Protection Bond 3% is not included and will be calculated at checkout. This Client Protection Policy protects our clients in the event of supplier business failure. All bookings and transactions are subject to this charge. This charge is applicable to EU residents only.
sold out