Information
Included in this package
Airport transfers
17 nights hotel accommodation
Welcome & farewell dinners
Late Model Motorcycle Rental
Bike Model Guarantee
16 days m/cycle hire
Fuel on Riding Days
Custom Riding Jacket
Breakfast on Riding Days
Experienced Tour Guide
Support Vehicle Equipped for Luggage and Spare Bike
Support Vehicle Driver
Leather-Bound Custom Road Book
EagleRider Custom Motorcycle Maps
Custom Tour Completion Patch
National Park Entrance Fees
Hotel Parking Fees
Additional info
Costs:-
2 persons / 1 bike / 1 room   –  €3,949 pps
2 persons / 2 bikes / 1 room –    €5,849 pps
1 person / 1 bikes / 1 room –  €7,249
Insurance is a very important matter for everybody travelling by motorcycle. We feel therefore, that it is important that you clearly understand matters and set out the relevant information below.
1. Supplemental Liability Insurance (SLI)
All packages include a basic insurance for which the amount of cover varies from State to State. We strongly recommend that you give very serious consideration to taking the optional SLI as this increases your Liability Insurance Benefit up to US$1million. This insurance protects the renter against claims made by a Third Party for bodily injury and/or property damage sustained as a result of an accident.
2. EVIP Insurance
This policy is applicable to the motorcycle ONLY. It limits the liability of the renter:
in the event of any and all accidental damage to the motorcycle and its accessories.
the loss/theft of the vehicle provided the motorcycle was locked with all locks provided by the rental company.
in the event of mechanical breakdown requiring repair for more than 12 hours, the renter is provide with up to $75/day for a replacement rental + refund of daily rate.
covers the cost of tire repair/labour, but towing is NOT covered.
A Security Deposit of $300 will be taken upon collection of the motorcycle
IMPORTANT: A police report is required for all damages or accidents. All damages to rented motorcycle without a police report is considered the Renter's fault.
3. Personal Travel Insurance
Your travel insurance policy must include repatriation to Ireland of patients by Air Ambulance or other medically approved means of transportation where it is deemed as preferable by the Medical Adviser of the Insurance Underwriters.
Please check closely the terms of cover provided by any travel insurance policy that you are offered or already hold. In our experience, most policies only provide cover for motorcycles up to 125cc which is not sufficient as most motorcycle models in use on the EagleRider tours range between 1200cc and 1800cc.
Celtic Horizon Tours will be happy to assist in obtaining quotations for suitable travel insurance cover should you require our assistance in this matter.
What to Bring
Warm Weather Riding Gear
* Mesh Riding Jacket
* Neck Cooler/ Bandana
* Hydration Pack
Cold Weather Riding Gear
* Leather Jacket
* Wind Proof Jacket
* Wind Proof Pants
Wet Weather Riding Gear
* Waterproof Jacket
* Waterproof Pants
Protective Riding Gear
* Goggles
* Sun Glasses
* Riding Boots
* Riding Gloves
FAQ
How many people are in a group?
We allow a maximum of 15 bikes per group. At rare occasions there can be a few more bikes but if the number exceeds 15 we may add a second tour guide on a motorcycle to the group.
Will I receive some kind of information about my tour before I arrive?
A road book for each specific tour will be sent to you via email as a pdf file; the book contains all important and necessary information about your tour, route, general information, etc.
Will there be enough photo stops on a guided tour?
While one just likes to ride and is hardly to be kept off his bike another may want to stop every five minutes to get this very special photo shot. We try to find a good average of stops to accommodate everyone's needs.
Can I book additional nights before or after the tour through Celtic Horizon Tours?
Yes, we are happy to book additional accommodation before or after the tour for you. Please be aware that once an additional reservation has been made any changes or cancellation will result in a €50 handling fee per occurrence. Reservations for additional nights must be made at time of booking.
What is the weather going to be like?
If you've all been good the weather will be too…honestly, we can never be certain; this is one factor on our tours that we still haven't been able to influence. In general you can say that during mid summer months you have a 90% chance of staying dry and hot weather on any of our tours. It'll always be a little cool along the west coast and you can always expect some rain along Route 66. Please come prepared, bring your raingear and a variety of clothing to be armed for all weather conditions.
Do I have to wear a helmet?
For your own safety we require you to wear a helmet at all times when you ride a motorcycle.
Do all bikes have a windshield?
The only models that are equipped with a windshield are Electra Glide, Road Glide, Road King and Heritage Softail, and BMW. Especially during mid summer you will face very hot temperatures on your rides. A windshield will not only hold off dust and stones but also keep away direct hot air to your body.
Extras
Flights
Personal souvenirs
Beverages
Food and snacks (except welcome and farewell meals, as described)
Tips
Personal travel insurance (see below)
EVIP insurance (see below)
Supplemental Liability Insurance (see below)
IMPORTANT
If a person decides to travel without any travel insurance cover, they do so explicitly at their own risk, against our advice, and are deemed to absolve Celtic Horizon Tours Ltd, its employees, agents, suppliers and various affiliates of all and any responsibility and/or liability.
The prices shown are in respect of 2 pax + 1 bike sharing a twin / double room. Prices are also available on request for 2 pax + 2 bikes sharing a twin / double room, or 1 pax + 1 bike staying in a single room.
Itinerary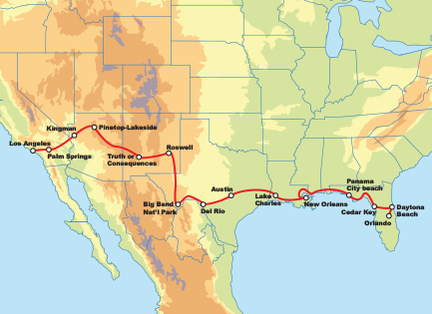 General Information
Departure Dates:

March 14th 2019
October 10th 2019
No of touring days: 19 days
No of nights in package: 18 nights
Arriving airport: Denver, CO
Departing airport: Portland, OR
Please note you arrive back in Ireland the day after the last day of the tour.
DAY 1 Dublin – Denver Colorado
Please remember that you will need a valid ESTA to enter the USA. There is no rush at this stage to get this done, but do not forget about it!
We have a Welcome Dinner this evening and overnight in Denver.
DAY 2 Leadville, Colorado - Via Pikes Peak
We collect our motorbikes at Eaglerider's depot in Lawrence Street and once the formalities are complete, we get on the road!
It really is a beautiful drive through White River National Forest. There are majestic views, jutting mountains, big horn sheep, sometimes elk herds, several quaint mountain towns.
DAY 3 Leadville – Gunnison Colorado
Independence Pass, originally known as Hunter Pass, is a high mountain pass in the Rocky Mountains of central Colorado in the United States. It is at elevation 12,095 ft (3,687 m) on the Continental Divide in the Sawatch Range. The pass is midway between Aspen and Twin Lakes, on the border between Pitkin and Lake counties.
Much like the Grand Canyon, there are two rims to the Black Canyon of the Gunnison, with the southern having many more view points
DAY 4 Gunnison – Durango, Colorado
Through the Million Dollar Highway, Though the entire stretch has been called the Million Dollar Highway, it is really the twelve miles (19 km) south of Ouray through the Uncompahgre Gorge to the summit of Red Mountain Pass which gains the highway its name. This stretch through the gorge is challenging and potentially hazardous to drive; it is characterized by steep cliffs, narrow lanes, and a lack of guardrails; the ascent of Red Mountain Pass is marked with a number of hairpin curves used to gain elevation, and again, narrow lanes for traffic—many cut directly into the sides of mountains. During this ascent, the remains of the Idarado Mine are visible
DAY 5 Durango – Kayenta, Arizona
Today's destination is Kayenta, still in Colorado, to see the Great Sand Dunes. The landscape changes slowly, turning into mountains. San Juan Forest's pine trees rise towards the azur blue sky. On the way, you'll cross the Great Divide, this invisible line separating the Pacific from the Atlantic.
We also get to see Monument Valley before arriving into Kayenta.
DAY 6 Kayenta – Bryce, Utah
From Kayenta we will ride up to sleepy Mexican Hat, briefly a frenzied gold-   mining camp, which takes its name from a riverside sandstone hoodoo – it actually looks like a south-of-the-border sombrero. We ride on past the Valley of the Gods, where much of the movie "Thelma and Louise" was filmed, and cross the Colorado River where it pours into Lake Powell. Lake Powell has 1960 miles of shoreline, which is more than the entire Pacific Coast and 96 water-filled side canyons. We ride along the southern tip of Capitol Reef National Park, across aspen-covered peaks, along the buff-colored sandstones of the Devil's Backbone, through the Escalante Wilderness, and finally to Bryce Canyon, where we overnight. This is a day you'll never forget
DAY 7 Bryce – Fillmore Utah
Fishlake
DAY 8 Whitefish - Fillmore – Winnemucca, Nevada
Open ride on America's Loneliest Highway.  Stopping and riding at         Salt Lake Flats
The main characteristic about this highway is the absence of buildings, towns or really anything man made. You still encounter cars (though not too many) but other than that you pretty much drive straight sections followed by mountain passes.
Winnemucca is the only incorporated city in and is the county seat of Humboldt County, Nevada, United States. Winnemucca is known as the "basecamp to Nevada's backcountry," an area dominated by the stunning Battle Mountain.
DAY 9 Winnemucca – South Lake Tahoe (or Stateline)
Looping around Lake Tahoe
DAY 10 South Lake Tahoe – San Francisco CA
Via Sierra Mountains
Donner Pass is breathtakingly beautiful.  For those who know the story, it's hard   not to think about the group of California-bound pioneers who were stranded here in the 1800s.
DAY 11 Free-day in San Francisco
Yours to Explore! Alcatraz, Golden Gate Bridge, Pier 39 – so much to see and do!
DAY 12 San Francisco - Napa
Visit to a Winery
California's Wine Country is a perfect place to visit. Its    combination of incredible wineries and majestic scenery will be pleasing to your both your palate and your mind's eye
DAY 13 Napa – Mendocino CA
Old Highway 1 – a lovely drive so enjoy it as best you can!
DAY 14 Mendocino – Cresent City CA
Up Highways 1 & 101 through the Redwood Trees, Avenue of the Giants. 
The Avenue of the Giants is a scenic highway in Northern California, United States, running through Humboldt Redwoods State Park. It is an old alignment of U.S. Route 101, and continues to be maintained by the state as State Route 254
DAY 15 Cresent City – Newport, OR
Oregan Coastal Drive 
A scenic drive extends along the oceanfront all the  way into the center of the city. It passes Pebble Beach and the municipal airport, and the Castle Rock National Wildlife Refuge offshore. Closer to downtown, Battery Point Lighthouse is on an island so close that it is accessible by foot at low tide
DAY 16 Newport – Astoria OR
More coastal roads 
Oregon showcases its coastal treasures with around 80 state parks and scenic overlooks along US Highway 101 south of Astoria.
DAY 17 Astoria – Portland OR
Ride along the Columbia River as it meanders along the waterway that led Lewis and Clark to the sea to arrive in Portland in time for lunch
–       Bike drop-off   
–       Farewell Dinner tonight
DAY 18 Depart for home
Return Portland – Chicago 08.00-14.02  ORD – Dublin 19.45-08.00 +1
DAY 19 Arrive in Dublin
Arrive home & finish your tour!
Coast To The Coast Tour
America
Thursday, 10th October 2019
Departure Dates Listed
Package Prices
Adults€3,949.00 per person
Children €3,949.00 per person
Customer Protection Bond 3% is not included and will be calculated at checkout. This Client Protection Policy protects our clients in the event of supplier business failure. All bookings and transactions are subject to this charge.