Information
Package overview
This adventure has been an American rite of passage for generations – from teenagers who talked their parents into throwing them the keys to the Chrysler or the old street bike sitting in the garage, to parents loading up the family station wagon and heading across the country. For most of us, the term "Road Trip" takes us back to a simpler time in our lives, one where a set of wheels, some gas money, a place to crash for the night and the right group of people meant you could embark on a journey that you would remember for the rest of your life. EagleRider is rekindling that spirit with our new Coast 2 Coast Motorcycle Tour. The concept is simple; create a great route hitting iconic destinations, give riders their favorite motorcycle to ride, set up some Motorcycle Friendly Hotels, hook up with a great group of new friends to ride with, and follow the whole thing up with EagleRider's 24/7 On-Road Support and Luggage Transport. And if that's not enough, wrap it all up for a price that riders could never pull off on their own! If you have ever dreamed of riding across America, this is the trip you have been waiting a lifetime for.
Included in this package
Flights Dublin – Los Angeles/ Orlando – Dublin
Late Model Motorcycle Rental
Bike Model Guarantee
3-4 Star Motorcycle Friendly Hotels
Breakfast on Riding Days
Fuel on Riding Days
Custom Armoured Riding Jacket
Hosted Welcome Dinner
Half-Shell Helmets for Rider & Pillion
EagleRider Legendary Farewell Dinner
Experienced Multilingual Tour Guide
Support Vechile Equipped for Luggage and Spare Bike
Door to Door Luggage Service
Mobile Tour Guide App
National Park Entrance Fees
Hotel Parking Fees
Toll Fees
Transportation between Tour Hotel and EagleRider locations
SLI Insurance (liability cover up to US$300,000)
VIP-Zero Insurance cover for your motorcycle
NOT included in this package
Flight Taxes @ €338.00 – Prices can vary according to Flight availability and exchange rates
Personal souvenirs
Beverages
Food and snacks (except welcome and farewell meals, as described)
Tips
Personal travel insurance (see below)
Additional info
Costs:-
2 persons / 1 bike / 1 room   –  * €5,379 pps
2 persons / 2 bikes / 1 room –  *  €7,665 pps
1 person / 1 bikes / 1 room –  * €9,325
Prices can vary according to Flight availability and exchange rates
Insurance is a very important matter for everybody travelling by motorcycle. We feel therefore, that it is important that you clearly understand matters and set out the relevant information below.
1. Supplemental Liability Insurance (SLI)
All packages include a basic insurance for which the amount of cover varies from State to State. in addition, we also automatically include SLI as this increases your liability insurance Benefit up to US$3000,000. This insurance protects the renter against claims made by a Third Party for bodily injury and/or property damage sustained as a result of an accident.
2. EVIP Insurance
This policy is applicable to the motorcycle ONLY. It limits the liability of the renter:
in the event of any and all accidental damage to the motorcycle and its accessories.
the loss/theft of the vehicle provided the motorcycle was locked with all locks provided by the rental company.
in the event of mechanical breakdown requiring repair for more than 12 hours, the renter is provide with up to $75/day for a replacement rental + refund of daily rate.
covers the cost of tire repair/labour, but towing is NOT covered.
A Security Deposit of $300 will be taken upon collection of the motorcycle
IMPORTANT: A police report is required for all damages or accidents. All damages to rented motorcycle without a police report is considered the Renter's fault.
3. Personal Travel Insurance
Your travel insurance policy must include repatriation to Ireland of patients by Air Ambulance or other medically approved means of transportation where it is deemed as preferable by the Medical Adviser of the Insurance Underwriters.
Please check closely the terms of cover provided by any travel insurance policy that you are offered or already hold. In our experience, most policies only provide cover for motorcycles up to 125cc which is not sufficient as most motorcycle models in use on the EagleRider tours range between 1200cc and 1800cc.
Celtic Horizon Tours will be happy to assist in obtaining quotations for suitable travel insurance cover should you require our assistance in this matter.
What to Bring
Warm Weather Riding Gear
* Mesh Riding Jacket
* Neck Cooler/ Bandana
* Hydration Pack
Cold Weather Riding Gear
* Leather Jacket
* Wind Proof Jacket
* Wind Proof Pants
Wet Weather Riding Gear
* Waterproof Jacket
* Waterproof Pants
Protective Riding Gear
* Goggles
* Sun Glasses
* Riding Boots
* Riding Gloves
FAQ
How many people are in a group?
We allow a maximum of 15 bikes per group. At rare occasions there can be a few more bikes but if the number exceeds 15 we may add a second tour guide on a motorcycle to the group.
Will there be enough photo stops on a guided tour?
While one just likes to ride and is hardly to be kept off his bike another may want to stop every five minutes to get this very special photo shot. We try to find a good average of stops to accommodate everyone's needs.
Can I book additional nights before or after the tour through Celtic Horizon Tours?
Yes, we are happy to book additional accommodation before or after the tour for you. Please be aware that once an additional reservation has been made any changes or cancellation will result in a €50 handling fee per occurrence. Reservations for additional nights must be made at time of booking.
What is the weather going to be like?
If you've all been good the weather will be too…honestly, we can never be certain; this is one factor on our tours that we still haven't been able to influence. In general you can say that during mid summer months you have a 90% chance of staying dry and hot weather on any of our tours. It'll always be a little cool along the west coast and you can always expect some rain along Route 66. Please come prepared, bring your raingear and a variety of clothing to be armed for all weather conditions.
Do I have to wear a helmet?
For your own safety we require you to wear a helmet at all times when you ride a motorcycle.
Do all bikes have a windshield?
The only models that are equipped with a windshield are Electra Glide, Road Glide, Road King and Heritage Softail, and BMW. Especially during mid summer you will face very hot temperatures on your rides. A windshield will not only hold off dust and stones but also keep away direct hot air to your body.
IMPORTANT
PRICES CAN VARY ACCORDING TO FLIGHT AVAILABILITY AT TIME OF BOOKING.
Rates of exchange can also fluctuate and cause prices to alter.

If a person decides to travel without any travel insurance cover, they do so explicitly at their own risk, against our advice, and are deemed to absolve Celtic Horizon Tours Ltd, its employees, agents, suppliers and various affiliates of all and any responsibility and/or liability.
The prices shown are in respect of 2 pax + 1 bike sharing a twin / double room. Prices are also available on request for 2 pax + 2 bikes sharing a twin / double room, or 1 pax + 1 bike staying in a single room.
Other tours available in the US  include:
Route 66 West 8-Day Tour CHI – ABQ
Route 66 West 9-Day Tour ABQ – LAX
Wild West I    8-Day
Wild West II   9-Day Tour
Canada to Yellowstone  16 Day Tour-

Sturgis Motorcycle 10 Day Tour
Pacific Coast  10 Day Tour
Triple B – BlueRidge, Blues, BBQ 14 Day Tour
Blues – Blue Ridge – BBQ Motorcycle Tour – New Orleans to Nashville 2021 –  8 Day Tour
Triple B – Blues – Blue Ridge – BBQ Motorcycle Tour – Nashville to Washington D.C. 2021 –  8 Day
Southwest Canyon Country – 9 Day Tour
We also have Motorcycle Tours available in Australia, South Africa, Italy and Morocco – please contact our office for details.
Itinerary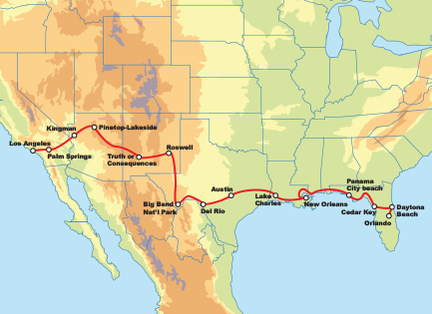 General Information
No of touring days: 17 days
No of nights in package: 16 nights
Arriving airport: Los Angeles
Departing airport: Orlando
Please note you arrive back in Ireland the day after the last day of the tour.
DAY 1 Los Angeles, Arrival
Welcome to Los Angeles!
We'll kick-off our adventure with a "Meet & Greet" with your fellow riders and EagleRider Support Team to go over what to expect from the awesome journey ahead, as well as some important safety tips and information. Your ride of a lifetime is about to begin!
DAY 2 Los Angeles - Palm Springs, CA
Since your tour is a Coast to Coast Motorcycle Tour, we will kick off our day with a southerly ride along the beautiful shores of the Pacific Ocean, before heading east on the famous Ortega Highway (a favorite among California riders.) The Ortega Highway along with Pines to Palms are the first two incredible mountain passes that you will experience on this Tour. If you love riding the "twisties" today will be very satisfying indeed! Our destination tonight is Palm Springs, a desert oasis getaway for the Hollywood and L.A. elite. Warm desert air and relaxation are the reward for a great first day of riding.
DAY 3 Palm Springs - Kingman, AZ
We'll get a jump on the day and head straight for Joshua Tree National Park, a local EagleRider staff favorite day-trip out of Palm Springs.  After lunch we will pick up the legendary Route 66 in Amboy, and of course in the ghost town of Oatman, Arizona.  Oatman looks almost exactly like it did over 100 years ago when it was a booming mining town and is now a "must see" Route 66 destination.  We'll end the day's ride in Kingman and spend the night at one of our favorite Route 66 hotels.
DAY 4 Kingman - Payson, AZ
Today starts with several more miles of "The Mother Road", before turning south toward Chino Valley, the twisty roads into Jerome and the beautiful and magic rock formations surrounding Sedona. After lunch, you will be treated to a ride through the Tonto National Forest in Central Arizona where both the roads and scenery are incredible. This day is sure to be one of your most memorable experiences of the Tour.
DAY 5 Payson - Socorro, NM
Our route today features one of the many roads less traveled in the United States. We snake our way along mile after mile of breath-taking terrain through the upper desert of Western New Mexico just north of the Gila National Forest. Stops in Summerville, Pie Town and the Very Large Array radio astronomy observatory, make the day really fun. Along the way it will be easy to daydream of the Old West – riding your steel horse through the desert today is not so different from a cowboy riding a real horse in the 1880s…only a little faster.
DAY 6 Soccorro - El Paso, TX
Today we continue to ride mile after mile of wide-open spaces mixed in with dense forest roads and the last of our mountain twisty roads. Highlights today are the Carrizozo Malpais lava flow, Smokey the Bear Museum, Lincoln National Forest, Ruidoso, Cloudcroft and some of the best mountain roads in all of New Mexico. As we come off the 8,668 foot elevation of Cloudcroft, you will be able to see the vast expanse of White Sands with its landscape of rare white gypsum sand dunes. In our final stretch of highway into El Paso, Texas, we pass through two different missile testing ranges. Hopefully our passage will not be stopped for one of their tests.
DAY 7 El Paso - Lijitas/ Big Bend National Park, TX
Today we need to get a very early start with a lot of ground to cover before our off day off in Lajitas, TX on the banks of the Rio Grande River. While the first half of our day is Interstate, once we reach our turn off, we will be riding on another section of roads less traveled. It's a long, easy ride from I-10 to Lajitas and the Big Bend National Park region, where we'll stay for two nights to get some rest. You will have a full free day to explore one of the best kept secrets in the US National Park System. The Big Bend area offers horseback tours, ATV tours, hiking, and several other ways to explore and enjoy.
DAY 8 Lajitas/ Big Bend National Park - Free Day
Today is free to explore at your leisure. Be sure to ask your Support Team for some ideas on how to best experience a day in Big Bend and Lajitas. Have fun and enjoy!
DAY 9 Lajitas/Big Bend National Park – Del Rio, TX
It's always tough to leave the beauty and serenity of Big Bend behind, but we're only halfway through the tour!  As we continue East we will skirt the border between the USA and Mexico, and cross the massive Amistad Reservoir (Amistad means 'friendship' in Spanish) before landing in Del Rio.
DAY 10 Del Rio – Austin, TX
Today we ride from one extreme to the other, from sleepy Del Rio to the modern, hip city of Austin. Austin is the capital city of Texas, home to many universities and museums, parks, and restaurants of national renown. If you love real Texas BBQ, world-class live music, and more bars than you can count, Austin is your city. With a very vibrant nightlife scene, there is something for everyone here. On the way to Austin we make some time for a stop in San Antonio, the 2nd-largest city in the state. The Riverwalk downtown is a great place for lunch, and it's right next to the Alamo, a Spanish-colonial mission that was the site of an iconic battle in Texas' war with Mexico.
DAY 11 Austin – Lake Charles, LA
Today is all about riding the backroads of Texas as we roll along the outskirts of Houston, the 4th-largest city in the state. Soon you'll encounter the laid-back vibes of Lake Charles, Louisiana, a fun "Riverboat Gambler" town with a main strip lined with casinos, restaurants and every type of bar or tavern you can imagine. Rest well and save some energy, for we hit New Orleans tomorrow!
DAY 12 Lake Charles – New Orleans, LA
As we dead south out of Lake Charles you will get your first taste of "Bayou Life."  We'll cruise along the Gulf of Mexico past the Rockefeller and White Lake Wildlife Refuges, as well as Marsh Island before setting our sights on The Big Easy. After a quick stop at the hotel to check-in and get cleaned up we'll head into the heart of the French Quarter and soak up all that N'awlins has to offer.
DAY 13 New Orleans, LA - Free Day
Today is your second of two free days to explore New Orleans at your leisure.  The "Crescent City" is constantly voted one of the best tourism destinations in the USA, and there are a million fun things to do here. Be sure to ask your Support Team for some ideas about tours, museums, restaurants and shopping.
DAY 14 New Orleans – Pensacola Beach, FL
There are usually a few riders we have to drag out of New Orleans kicking and screaming, but more gorgeous scenery along the Gulf Coast is in store for us today. We'll ride through the gulf towns of Pass Christian, Gulfport, Biloxi, Mobile on our way to Pensacola Beach. This region has roared back to life after the BP Deepwater Horizon oil spill in 2010 and Hurricane Katrina and has once again established itself as one of the top tourist destinations in the American south. The deserts of the Southwest and the swamps of Louisiana will seem like a distant dream, as you ride past swaying palm trees and white, sandy beaches!
DAY 15 Pensacola Beach – Perry, FL
Too much of a good thing is wonderful, as the old saying goes, so let's keep rolling along the shores of the Gulf for another day on our way to Perry, Florida.  Highlights today include Mexico Beach ground zero for Hurricane Michael, Tate's Hell State Forest and the insanely beautiful (and hard to pronounce!) Apalachicola National Forest. You're in gator country now, so watch where you step when you dismount from your bike!  Our final destination before we reach the Atlantic Ocean is Perry Florida.
DAY 16 Daytona Beach, FL
We complete our "Coast to Coast" portion of the tour today, as we arrive at the Atlantic Ocean and Daytona Beach.  In Daytona Beach you can visit Bruce Rossmeyer's Destination Daytona, the largest Harley-Davidson dealership in the USA, and of course the Daytona International Speedway, home to NASCAR's most famous stock-car race, the Daytona 500. Tonight we will arrange for our famous Farewell Celebration where we end this amazing motorcycle tour in style.
DAY 17 Daytona Beach – Orlando, FL - Departure
It's a short ride back to our EagleRider Orlando office to return our bikes and say our final farewells. If you'd like to do some sightseeing in the Orlando area after the tour is over, just let us know and we can easily arrange hotel and/or motorcycle reservations for you.
Our Coast to Coast journey has been the memory of a lifetime and we sincerely appreciate and thank you for participating in this amazing ride.  Until next time we meet – ride and have fun!
Coast To The Coast Tour
America
Friday, 1st April 2022
3190
Departure Dates Listed
Package Prices
Adults€5,379.00 per person
Children €5,379.00 per person
Customer Protection Bond 3% is not included and will be calculated at checkout. This Client Protection Policy protects our clients in the event of supplier business failure. All bookings and transactions are subject to this charge. This charge is applicable to EU residents only.
sold out