Information
Package overview
This once in a lifetime journey takes you from the emerald waters of Seattle, Washington through the visual splendor of the Cascade Mountains before ascending the Canadian Rockies to bask in the natural beauty of Lake Louise and Banff, Alberta. From Canada we will cross back into the United States through the razor sharp peaks of Glacier National Park and the majesty of Yellowstone National Park and her most cherished treasure, "Old Faithful". Our journey culminates with a ride through the stunning landscapes of Southern Idaho and Northern Utah, and a possible journey to one of North America's most unique landscape – the Bonneville Salt Flats. We end our journey in the vibrant Salt Lake City nestled between the Wasatch Mountains and the Great Salt Lake.
Included in this package
All hotel accommodation
Late model motorcycle rental
Unlimited mileage
Fuel on Riding Days
"Welcome" and "Farewell" dinners
Helmets for driver and passenger
Daily breakfast
Professional tour leaders
Support vehicle equipped with spare bike and room for additional luggage
All taxes, fees and environmental surcharges
National park entrance fees
Hotel parking fees
Discounted activities
One Way Transfer fees (when applicable)
Transportation between the hotel and the EagleRider location
Custom riding jacket
NOT included in this package
Flights
Personal souvenirs
Beverages
Food and snacks (except welcome and farewell meals, as described)
Tips
Personal travel insurance (see below)
EVIP insurance (see below)
Supplemental Liability Insurance (see below)
Additional info
2 persons / 1 bike / 1 room from €4,645 pps
2 persons / 2 bikes / 1 room from €6,850 pps
1 person / 1 bike / 1 room from €8,440
Insurance is a very important matter for everybody travelling by motorcycle. We feel therefore, that it is important that you clearly understand matters and set out the relevant information below.
1. Supplemental Liability Insurance (SLI)
All packages include a basic insurance for which the amount of cover varies from State to State. We strongly recommend that you give very serious consideration to taking the optional SLI as this increases your Liability Insurance Benefit up to US$1million. This insurance protects the renter against claims made by a Third Party for bodily injury and/or property damage sustained as a result of an accident.
2. EVIP Insurance
This policy is applicable to the motorcycle ONLY. It limits the liability of the renter:
in the event of any and all accidental damage to the motorcycle and its accessories.
the loss/theft of the vehicle provided the motorcycle was locked with all locks provided by the rental company.
in the event of mechanical breakdown requiring repair for more than 12 hours, the renter is provide with up to $75/day for a replacement rental + refund of daily rate.
covers the cost of tire repair/labour, but towing is NOT covered.
A Security Deposit of $300 will be taken upon collection of the motorcycle
IMPORTANT: A police report is required for all damages or accidents. All damages to rented motorcycle without a police report is considered the Renter's fault.
3. Personal Travel Insurance
Your travel insurance policy must include repatriation to Ireland of patients by Air Ambulance or other medically approved means of transportation where it is deemed as preferable by the Medical Adviser of the Insurance Underwriters.
Please check closely the terms of cover provided by any travel insurance policy that you are offered or already hold. In our experience, most policies only provide cover for motorcycles up to 125cc which is not sufficient as most motorcycle models in use on the EagleRider tours range between 1200cc and 1800cc.
Celtic Horizon Tours will be happy to assist in obtaining quotations for suitable travel insurance cover should you require our assistance in this matter.
What to Bring
Warm Weather Riding Gear
* Mesh Riding Jacket
* Neck Cooler/ Bandana
* Hydration Pack
Cold Weather Riding Gear
* Leather Jacket
* Wind Proof Jacket
* Wind Proof Pants
Wet Weather Riding Gear
* Waterproof Jacket
* Waterproof Pants
Protective Riding Gear
* Goggles
* Sun Glasses
* Riding Boots
* Riding Gloves
FAQ
How many people are in a group?
We allow a maximum of 15 bikes per group. At rare occasions there can be a few more bikes but if the number exceeds 15 we may add a second tour guide on a motorcycle to the group.
Will I receive some kind of information about my tour before I arrive?
A road book for each specific tour will be sent to you via email as a pdf file; the book contains all important and necessary information about your tour, route, general information, etc.
Will there be enough photo stops on a guided tour?
While one just likes to ride and is hardly to be kept off his bike another may want to stop every five minutes to get this very special photo shot. We try to find a good average of stops to accommodate everyone's needs.
Can I book additional nights before or after the tour through Celtic Horizon Tours?
Yes, we are happy to book additional accommodation before or after the tour for you. Please be aware that once an additional reservation has been made any changes or cancellation will result in a €50 handling fee per occurrence. Reservations for additional nights must be made at time of booking.
What is the weather going to be like?
If you've all been good the weather will be too…honestly, we can never be certain; this is one factor on our tours that we still haven't been able to influence. In general you can say that during mid summer months you have a 90% chance of staying dry and hot weather on any of our tours. It'll always be a little cool along the west coast and you can always expect some rain along Route 66. Please come prepared, bring your raingear and a variety of clothing to be armed for all weather conditions.
Do I have to wear a helmet?
For your own safety we require you to wear a helmet at all times when you ride a motorcycle.
Do all bikes have a windshield?
The only models that are equipped with a windshield are Electra Glide, Road Glide, Road King and Heritage Softail, and BMW. Especially during mid summer you will face very hot temperatures on your rides. A windshield will not only hold off dust and stones but also keep away direct hot air to your body.
IMPORTANT
If a person decides to travel without any travel insurance cover, they do so explicitly at their own risk, against our advice, and are deemed to absolve Celtic Horizon Tours Ltd, its employees, agents, suppliers and various affiliates of all and any responsibility and/or liability.
The prices shown are in respect of 2 pax + 1 bike sharing a twin / double room. Prices are also available on request for 2 pax + 2 bikes sharing a twin / double room, or 1 pax + 1 bike staying in a single room.
Itinerary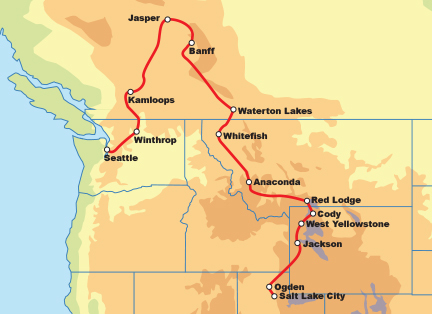 General Information
Departure Dates:
No of touring days: 16 days
No of nights in package: 15 nights
Arriving airport: Seattle, WA
Departing airport: Salt Lake City, UT
Please note you arrive back in Ireland the day after the last day of the tour.
DAY 1 Seattle, WA - Arrival 0.0 mi / 0.0 km
Welcome to one of the most beatiful cities in the United States, Seattle, Washington. Enjoy a long leisurely stroll down the famed Seattle waterfront, enjoy a ferry ride on Elliot Bay, visit the Space Needle, or try your hand throwing salmon at the world famous Pike's Place Market. Tonight we will take in a great dinner at a local landmark restaurant.
DAY 2 Seattle - Winthrop, WA 235.0 mi / 376.0 km
Today we say goodbye to the City of Seattle and quickly make our way to some of the most beautiful back roads in the State of Washington. Highway 9 is a Northwest treasure that winds through the carnation and tulip fields as we head north towards the Mt. Baker and North Cascades National Parks. Highway 9 drops us off at the North Cascades Highway as we head east through what is quite literally some of the most stunning scenery south of the Canadian Rockies. Our stop for the night is the small western town of Winthrop, Washington where we will sit along the river sipping an ice cold drink or glass of wine and reflect on the incredible day we just shared
DAY 3 Winthrop - Kamloops, BC 317.0 mi / 507.2 km
We'll enjoy our morning coffee along the river before heading north and crossing the border into the heart of Canada's wine country, Oliver, B.C. After crossing the border, we will explore roads that wind through vineyards and fruit stands and lunch along the shores of Canada's beautiful Lake Okanogan. From here we head northwest, riding through the majestic mountains rising in the distance as we make our way to our home for the night in Kamloops, B.C. where we will enjoy some Canadian hospitality.
DAY 4 Kamloops - Jasper, AB 292.0 mi / 467.2 km
Today we head towards Alberta, and the heart of the Canadian Rockies. Our ride will take us along the north Thompson River on the beautiful Yellowhead Highway. There is a good chance of seeing eagles, deer and moose along this stretch, as well as stopping to take in the stunning waterfalls near Clearwater. We will also enter Mt. Robson Provincial Park for a stunning view of the 5000' Emperor Face on Mt. Robson. From here, our ride will take us to the heart of Jasper National Forest and the great mountain village of Jasper, Alberta. Jasper holds a special place in our hearts as it marks the beginning of Canada's amazing Route 93, or Icefield Highway, that runs from Jasper to the breathtaking lakeside village of Lake Louise, Alberta.
DAY 5 Jasper - Banff, AB 217.0 mi / 347.2 km
Get ready to ride a stretch of highway that the EagleRider team would definitely rank among the top ten motorcycle rides in North American. Canada's Highway 93, also known as the Banff – Jasper Highway, takes us along glacial peaks and across some of Canada's most stunning ice fields. Today promises to be one of the great riding days of your life, guaranteed! Tonight we enjoy the vibrant Rocky Mountain village of Banff, Alberta, known for friendly people, good food and great nightlife.
DAY 6 Banff - Waterton Lakes, AB 240.0 mi / 384.0 km
This trip seems to be leading our group from one incredible destination to the next, and today promises to continue with that theme. We will ride over the stunning Kananaskis Pass where you are likely to see Big Horn sheep wandering along the road. We will lunch in the small pioneer town of Pincher Creek and then head to Waterton Lakes National Park for the night. Waterton is on the Canadian side of Glacier National Park, one of the most visually stunning places in North America. In Waterton we will enjoy a quiet, serene afternoon and evening on the glassy waters of a crystal clear lake. It is hard not to feel as if you are becoming a part of this place. Soak it in. This is what life is all about.
DAY 7 Waterton Lakes - Whitefish, MT 146.0 mi / 233.6 km
What better way to welcome our group back to the United States than with a ride through the amazing vistas of Glacier National Park. Glacier, the nation's 10th National Park, is known for its deep glacial valleys and rugged peaks. For motorcycle enthusiasts, it is simply an assault on the senses and offers some excellent riding terrain on one of the National Park's oldest, historical roads – the Going to the Sun Road. Tonight we will explore the Montanan town of Whitefish to explore it's markets, bars and live music.
DAY 8 Whitefish - Anaconda, MT 240.0 mi / 384.0 km
As we leave the stateside Glacier National Park, we turn our bikes southeast and explore why Montana is knowns as the Big Sky State! We will stick to the two-lane roads, passing by lakeshores and through the cattle country that defines this area. A stop for lunch in the small, pioneering town of Ovando will give you a chance to soak explore the extensive Montana history of this area. For thousands of years Native American tribes have made this area home, and later explorations by Merriweather Lewis and mining discoveries created this town. Our day ends at the resort of Fairmont Hot Springs where we can soak in the hot water and celebrate our day.
DAY 9 Anaconda - Red Lodge, MT 322.0 mi / 515.2 km
Today we will continue to explore some of the pioneering history of Montana, stopping in the historical gold-mining towns of Virginia and Nevada cities. If you haven't felt it before, you will definitely feel as if you've stepped back into time in the old West. Our ride will continue through the city of Bozeman, eventually turning off onto the small roads that climb towards the mountain town of Red Lodge. Get a good's night sleep, as tomorrow we tackle the Beartooth Highway and Chief Joseph passes!
DAY 10 Red Lodge - Cody, WY 114.0 mi / 182.4 km
Get ready to ride what many consider to be two of the top motorcycle rides in North America, Chief Joseph and the Beartooth Pass. There is simply no way to put into words what lies ahead today. We will cruise at a nice easy speed, stopping often to capture awe inspiring photos of the scenery and glimpses of wildlife. When this day is over we will all look at one another with a big grin and wonder out loud if today was all just an amazing dream. We will stay tonight in the classic western town of Cody, Wyoming, once home to Buffalo Bill Cody. After dinner you can walk down the street to enjoy some local history or head to the local Cody Rodeo to watch cowboys on bucking broncos and bulls. It's the Wild West!
DAY 11 Cody, WY, Free Day 0.0 mi / 0.0 km
Today is your day to simply kick up your boots and relax in Cody. Incorporated in 1901, Cody, Wyoming is located 52 miles from Yellowstone National Park's east entrance. Cody was founded by Colonel William F. "Buffalo Bill" Cody who passed through the region in the 1870s. He was so impressed by the development possibilities of irrigation, rich soil, grand scenery, hunting, and proximity to Yellowstone National Park, one of the most amazing landscapes and wildlife habitats on the planet, that he returned in the mid-1890s to start a town. Cody has many activities to offer – from white water rafting to experiencing the amazing Buffalo Bill or Cody Firearms museums.
DAY 12 Cody, WY to West Yellowstone, MT 178.0 mi / 284.8 km
We are running out of adjectives to describe this incredible region of the world and today is no different. Today will be spent winding our way through parts of Yellowstone National Park, stopping to experience the majesty of Yellowstone Falls and the Grand Canyon of the Yellowstone, Mammoth Hot Springs, Hayden Valley and all of its extraordinary wildlife. Tonight we will stay on the edge of the park in West Yellowstone so we'll be primed for our more part exploration in the morning.
DAY 13 West Yellowstone to Jackson, WY 128.0 mi / 204.8 km
This morning we will ride through geyser country to have a coffee and watch the greatest geyser of all do its thing – Old Faithful! From here we will make our way along Jackson Lake and in Grand Teton National Park for scenic stops and lunch. Our home tonight is nestled in one of the most famous and exclusive ski resort areas of the United States, Jackson Hole, Wyoming. Jackson is home to sprawling cattle ranches, celebrity estates and roaming herds of buffalo. Tonight we will enjoy the vibrant nightlife of Jackson Hole.
DAY 14 Jackson, WY to Ogden, UT 256.0 mi / 409.6 km
We will start our ride today by descending through the twisty Snake River Gorge as we leave the Grand Teton National Park and spend the morning exploring the gentle landscapes of Idaho and Utah as we travel though areas with names such as "Tin Cup Pass" and "Soda Springs." Lunch is along the shore of the impossibly-turquoise Bear Lake before we take a ride across the Wasatch Mountains through Logan River Canyon. Our evening will be spent exploring the bars and restaurants of Historic 25th Street. With nicknames like Notorious Two Bit Street and Electric Alley, this street was once home to brothels, political scandals, and the "dark ages" of gang rivalries so intense you couldn't walk the three-block length in safety. Today, 25th Street is a mecca for travelers, art collectors, foodies, and adventurers.
DAY 15 Ogden, UT to Salt Lake City UT 100.0 mi / 160.0 km
Our last day will give us options of continuing our exploration of the Wasatch and its famous ski areas such as Park City, or bee-lining across the high desert to see the salt wastelands of the Bonneville Salt Flats. Whichever route we take, either will be an amazing way to spend our last day on two-wheels together. Tonight we will celebrate our adventure at one of SLC's famous brew pubs where we will enjoy one another's company one last time at our Farewell Dinner and raise our glasses to incredible journeys, lifelong memories, and, most important, the kind of friendships that can only be forged on the road.
DAY 16 Salt Lake City, UT - Departure 0.0 mi / 0.0 km
You are now part of the EagleRider Motorcycle Tours family, a symptom of which is that you will never look at vacations the same way again. Let's meet over breakfast to start planning next year's ride. The best time to start dreaming is now.
Canadian Rockies to Yellowstone
America
Wednesday, 11th August 2021
3134
Departure Dates Listed
Package Prices
Adults€4,645.00 per person
Children €4,645.00 per person
Customer Protection Bond 3% is not included and will be calculated at checkout. This Client Protection Policy protects our clients in the event of supplier business failure. All bookings and transactions are subject to this charge. This charge is applicable to EU residents only.
sold out