Information
Package overview
The best of the Wild West! Solitary deserts, vibrant cities, deep canyons and high mountains – this guided motorcycle tour has everything. You will see all the attractions of the South-West during this 9 day adventure: Death Valley, Yosemite, Los Angeles, Las Vegas and San Francisco. In between over one thousand miles of fantastic roads and breathtaking scenery and just before the finish line the ineffable beauty of the California coast line on Highway 1 through Big Sur.
Included in this package
All hotel accommodation
Late model motorcycle rental
Unlimited mileage
Free fuel and oil
"Welcome" and "Farewell" dinners
Helmets for driver and passenger
Daily breakfast
Professional tour leaders
Support vehicle equipped with spare bike and room for additional luggage
All taxes, fees and environmental surcharges
National park entrance fees
Hotel parking fees
Discounted activities
One Way Transfer fees (when applicable)
Transportation between the hotel and the EagleRider location
Custom riding jacket
NOT included in this package
Flights
Personal souvenirs
Beverages
Food and snacks (except welcome and farewell meals, as described)
Tips
Personal travel insurance (see below)
EVIP insurance (see below)
Supplemental Liability Insurance (see below)
Additional info
2 persons / 1 bike / 1 room from €2,299.00 pps
2 persons / 2 bikes / 1 room from €2,899.00 pps
1 person / 1 bike / 1 room from €3,599.00 + taxes
Insurance is a very important matter for everybody travelling by motorcycle. We feel therefore, that it is important that you clearly understand matters and set out the relevant information below.
1. Supplemental Liability Insurance (SLI)
All packages include a basic insurance for which the amount of cover varies from State to State. We strongly recommend that you give very serious consideration to taking the optional SLI as this increases your Liability Insurance Benefit up to US$1million. This insurance protects the renter against claims made by a Third Party for bodily injury and/or property damage sustained as a result of an accident.
2. EVIP Insurance
This policy is applicable to the motorcycle ONLY. It limits the liability of the renter:
in the event of any and all accidental damage to the motorcycle and its accessories.
the loss/theft of the vehicle provided the motorcycle was locked with all locks provided by the rental company.
in the event of mechanical breakdown requiring repair for more than 12 hours, the renter is provide with up to $75/day for a replacement rental + refund of daily rate.
covers the cost of tire repair/labour, but towing is NOT covered.
A Security Deposit of $300 will be taken upon collection of the motorcycle
IMPORTANT: A police report is required for all damages or accidents. All damages to rented motorcycle without a police report is considered the Renter's fault.
3. Personal Travel Insurance
Your travel insurance policy must include repatriation to Ireland of patients by Air Ambulance or other medically approved means of transportation where it is deemed as preferable by the Medical Adviser of the Insurance Underwriters.
Please check closely the terms of cover provided by any travel insurance policy that you are offered or already hold. In our experience, most policies only provide cover for motorcycles up to 125cc which is not sufficient as most motorcycle models in use on the EagleRider tours range between 1200cc and 1800cc.
Celtic Horizon Tours will be happy to assist in obtaining quotations for suitable travel insurance cover should you require our assistance in this matter.
What to Bring
Warm Weather Riding Gear
* Mesh Riding Jacket
* Neck Cooler/ Bandana
* Hydration Pack
Cold Weather Riding Gear
* Leather Jacket
* Wind Proof Jacket
* Wind Proof Pants
Wet Weather Riding Gear
* Waterproof Jacket
* Waterproof Pants
Protective Riding Gear
* Goggles
* Sun Glasses
* Riding Boots
* Riding Gloves
FAQ
How many people are in a group?
We allow a maximum of 15 bikes per group. At rare occasions there can be a few more bikes but if the number exceeds 15 we may add a second tour guide on a motorcycle to the group.
Will I receive some kind of information about my tour before I arrive?
A road book for each specific tour will be sent to you via email as a pdf file; the book contains all important and necessary information about your tour, route, general information, etc.
Will there be enough photo stops on a guided tour?
While one just likes to ride and is hardly to be kept off his bike another may want to stop every five minutes to get this very special photo shot. We try to find a good average of stops to accommodate everyone's needs.
Can I book additional nights before or after the tour through Celtic Horizon Tours?
Yes, we are happy to book additional accommodation before or after the tour for you. Please be aware that once an additional reservation has been made any changes or cancellation will result in a €50 handling fee per occurrence. Reservations for additional nights must be made at time of booking.
What is the weather going to be like?
If you've all been good the weather will be too…honestly, we can never be certain; this is one factor on our tours that we still haven't been able to influence. In general you can say that during mid summer months you have a 90% chance of staying dry and hot weather on any of our tours. It'll always be a little cool along the west coast and you can always expect some rain along Route 66. Please come prepared, bring your raingear and a variety of clothing to be armed for all weather conditions.
Do I have to wear a helmet?
For your own safety we require you to wear a helmet at all times when you ride a motorcycle.
Do all bikes have a windshield?
The only models that are equipped with a windshield are Electra Glide, Road Glide, Road King and Heritage Softail, and BMW. Especially during mid summer you will face very hot temperatures on your rides. A windshield will not only hold off dust and stones but also keep away direct hot air to your body.
IMPORTANT
If a person decides to travel without any travel insurance cover, they do so explicitly at their own risk, against our advice, and are deemed to absolve Celtic Horizon Tours Ltd, its employees, agents, suppliers and various affiliates of all and any responsibility and/or liability.
The prices shown are in respect of 2 pax + 1 bike sharing a twin / double room. Prices are also available on request for 2 pax + 2 bikes sharing a twin / double room, or 1 pax + 1 bike staying in a single room.
Itinerary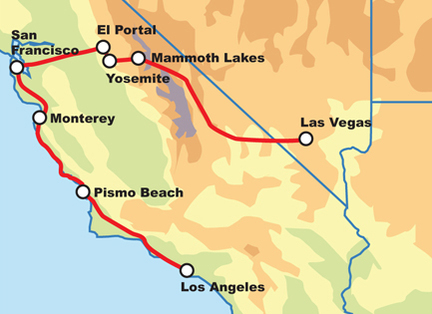 General Information
Departure Dates:
Apr 18, 2019
May 2, 2019
May 9, 2019
May 16, 2019
May 23, 2019
May 30, 2019
Jun 6, 2019
Jun 13, 2019
Jun 27, 2019
Jul 18, 2019
Aug 1, 2019
Aug 8, 2019
Aug 15, 2019
Aug 22, 2019
Sep 5, 2019
Sep 12, 2019
Sep 19, 2019
Sep 26, 2019
Oct 3, 2019
Oct 10, 2019
Oct 17 2019
Oct 31, 2019
Nov 7, 2019
No of touring days: 9 days
No of nights in package: 8 nights
Arriving airport: Los Vegas, NV
Departing airport: Los Angeles, LA
Please note you arrive back in Ireland the day after the last day of the tour.
DAY 1 Las Vegas, NV - Arrival 0.0 mi / 0.0 km
Welcome to Las Vegas! We recommend arriving at the hotel a day early to explore Las Vegas and relax a bit before meeting your Tour Leaders. We will arrange a meeting time and place at the hotel for an orientation, and then it is off to pick up your bikes! Tonight you will have a chance to meet the rest of the group at the Welcome Dinner. Get some rest tonight, as tomorrow we start our journey through some of the most amazing scenery in the Wild West!
DAY 2 Las Vegas, NV – Mammoth Lakes, CA 315.0 mi / 504.0 km
Today your adventure starts! From Las Vegas we head west and our ride will take us across Death Valley – the hottest place on earth! It's almost entirely devoid of shade and its sculpted rock layers form deeply shadowed, eroded crevices at the foot of sharply silhouetted hills, their exotic mineral content turning ancient mudflats into rainbows of sunlit iridescence. After riding a series of mountain curves, you've fallen hundreds of feet below sea level and find yourself right in the basin of Death Valley. From here we continue west, riding amazing roads that wind up and out of the Valley and onto the foothills of the magnificent Sierra Nevada Mountains. Today we will have ridden from the lowest point in the United States, over 100' below sea level, to the ski town of Mammoth Lakes at over 7000 feet. What a day!.
DAY 3 Mammoth Lakes, CA – Yosemite National Park, CA 150.0 mi / 240.0 km
Leaving Mammoth Lakes we continue our trip a little further north and then take the infamous Tioga Pass to cross Yosemite National Park. You push your Harley through the winding granite canyons…muscle flexing turns are rampant for the first several miles, and the road demands attention as you enter the mother of the mother of all National Parks. Yosemite conjures up thousands of images and raises expectations to dizzying heights and when you are there it is just as beautiful, wild, tame, rich, and sublime as you'd expect. We ride over to El Portal, where we overnight.
DAY 4 Laughlin, NV – Grand Canyon, AZ 245.0 mi / 392.0 kmDAY 4 Yosemite National Park, CA – San Francisco, CA 200.0 mi / 320.0 km
Today we head west towards San Francisco. Leaving Yosemite National Park, we descend through California Gold Rush country. We'll pass through small mining towns such as Groveland, before descending the winding roads of Old Priest Grade. Leaving Gold Rush country, we set our sights on the coastal regions of Marin County, an unabashed introduction to Californian self-indulgence: a pleasure zone of conspicuous luxury and abundant natural beauty, with sunshine, sandy beaches, high mountains, and thick redwood forests, often ranked the wealthiest county in the US. From here, we catch our first glimpse of this city's most famous landmark – the Golden Gate – and traverse one of San Francisco's great bridges to enter the city! A ride along the Marina and we are dropped into the heart of the city where we'll spend the next two days exploring all that San Francisco has to offer.
DAY 5 San Francisco, CA - Free Day 0.0 mi / 0.0 km
This day is at leisure to enjoy the unique flavor and character of San Francisco, a funky, individualistic, and influential city, like none other in the US. San Francisco has a European flair and lots of opportunities for sightseeing. Feel free to take a city bus tour, grab a ride on a Cable Car, or stroll around North Beach, Chinatown, and Union Square. Whatever your pleasure, be sure to soak up the culture, art, architecture, and views that make up this amazing city.
DAY 6 San Francisco, CA – Monterey, CA 118.0 mi / 188.8 km
Today we head south on the legendary Pacific Coast Highway (Hwy 1) which hugs the rugged California coast of the Pacific Ocean – one of the best motorcycle rides in the world! The coastline here is simply spectacular and there are plenty of opportunities for great photo stops. Breathtaking views of the coves and inlets of the Pacific are yours en route to the seaside town of Monterey and its famous "Cannery Row." Monterey is home to the world famous Laguna Seca Automobile and Motorcycle Racetrack and the spectacular "Aquarium of the Sea."
DAY 7 Monterey, CA – Pismo Beach, CA 152.0 mi / 243.2 km
We continue our ride on scenic Hwy 1, along the edge of the cliffs of the Big Sur Coast – 90 wild and undeveloped miles of rocky cliffs form a sublime landscape where redwood groves line river canyons and the Santa Lucia Mountains rise out of the blue-green Pacific. Roughly midway along the Big Sur Coast you come to Esalen, which is named for the long gone native tribes who once enjoyed its natural hot spring, situated on a cliff top high above the raging Pacific surf. We cruise past San Simeon, stop to see the Elephant Seal Rookery, wind through Cambria and Morro Bay until we get to Pismo Beach.
DAY 8 Pismo Beach, CA – Los Angeles, CA 225.0 mi / 360.0 km
Today we take Hwy 101 and head towards Los Angeles, the Pacific Ocean to our right, and the coastal mountains to our left. After a stop in Santa Barbara for a coffee, we get back on Hwy 101 and cruise straight into Malibu, the infamous beach colony. Santa Monica is LA's oldest and biggest resort – once a wild beachfront playground, it's now a self-consciously liberal and healthy community. Venice Beach is probably the reason why most people come to Venice – nowhere else does LA parade itself quite so openly as along the wide pathway of Venice Boardwalk. From here we will ride over to Hawthorne, where EagleRider's headquarters are located. Now it's time to return your motorcycles and transfer back to our hotel to get ready for a recap of this great adventure at our "Good-bye" dinner.
DAY 9 Los Angeles, CA - Departure 0.0 mi / 0.0 km
Day of Departure. Please take the hotel shuttle and transfer over to Los Angeles International Airport. We hope to see you again for a new adventure next year.
Wild West - Tour II
America
Thursday, 7th November 2019
Departure Dates Listed
Package Prices
Adults€2,299.00 per person
Children €2,299.00 per person
Customer Protection Bond 3% is not included and will be calculated at checkout. This Client Protection Policy protects our clients in the event of supplier business failure. All bookings and transactions are subject to this charge.