Welcome to Ireland!
It's the wit, warmth and wisdom of the people that makes a visit to Ireland so special.
Because "welcome" isn't just something you hear when you arrive. It's a feeling that stays with you long after you leave. Like the memories of the people you've met, the stories you've shared, the feeling of belonging that you never expected to find. Ireland is an experience. So jump in, and you'll discover a world of adventure you never imagined.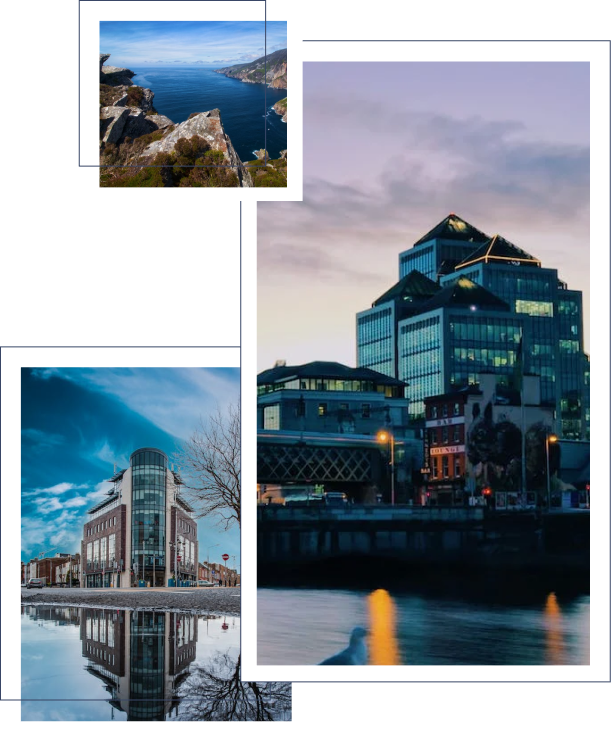 sharing based on 30 people travelling
The single room supplement is €833
Deposit is €300 per person
Balance Payment is due June 7th
Itinerary


Day One
4th of September Monday
Depart the US on your overnight flight to Ireland.


Day Two
5th of September Tuesday
Arrive in Dublin and meet with your Tour Director and Coach Drivers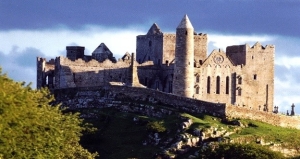 A spectacular group of Medieval buildings set on an outcrop of limestone in the Golden Vale including the 12th century round tower, High Cross and Romanesque Chapel, 13th century Gothic cathedral, 15th century Castle and the restored Hall of the Vicars Choral. Attractions include an audio-visual show and exhibitions.
Onward transfer to Limerick – transfer time 1 hour 15 minutes.
Suggested hotel – Limerick Strand Hotel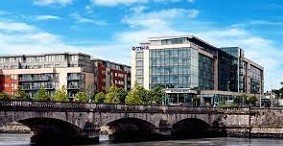 Situated in the heart of Limerick, the 4-star award-winning Limerick Strand Hotel is next to the River Shannon. The luxurious hotel offers spacious rooms, a 20 m swimming pool, a steam room, and 2 hot tubs. Shannon Airport is a 20-minute drive away. Featuring large king-size beds and a flat-screen LCD TV, the bright and airy bedrooms include free Wi-Fi and 24-hour room service. Homemade Irish cuisine, made with local produce, is served in The River Bar & Restaurant overlooking the River Shannon. The Limerick Strand Hotel has also won an award for the quality of the breakfasts.
Dinner in your hotel this evening


Day Three
6th of September Wednesday
8.30hrs Depart the hotel
10.00hrs Arrive the Cliffs of Moher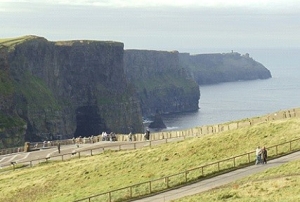 You simply cannot travel to Ireland without paying a visit to Ireland's top tourist attraction, the breathtaking Cliffs of Moher, situated in County Clare along the wild Atlantic Way. The Cliffs of Moher have majestically faced the Atlantic for over 350 million years and their beauty is incomparable – it is Ireland's most visited tourist attraction and when you visit you will understand why.
From the Cliffs we head back to Limerick to visit Bunratty Castle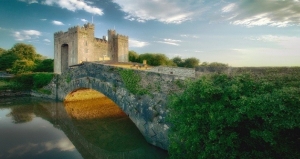 The site on which Bunratty Castle stands was in origin a Viking trading camp in 970. The present structure is the last of four castles to be built on the site. Take a tour of this iconic fortress; hear and see how the lords and ladies of this castle lived; hear stories of battles and bravery and enjoy stunning views across the idyllic Clare countryside.
After our Castle visit we have some time at leisure in Limerick City before our Medieval Banquet in Bunratty Castle.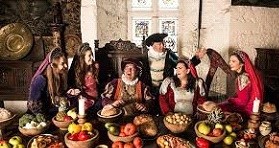 Experience a truly unique entertainment and dining experience in the iconic setting of the world famous Bunratty Castle. The lifestyle of medieval Ireland is recaptured at the Castles with our medieval banquet nights. Once the preserve of the nobility who resided in these fortresses, it can now be experienced by everyone. Over 3 million people have experienced this unique medieval banquet since it's inception. Delight in a four course meal in this historic castle and be entertained by the world famous Bunratty Castle Singers. Enjoy Music, song and dance while you dine in the Great Hall of Bunratty Castle.


Day Four
7th of September Thursday
08.30hrs Checkout and depart our hotel
10.30hrs Arrive Galway City
On arrival we will have a short walking tour followed by some time at leisure in the city.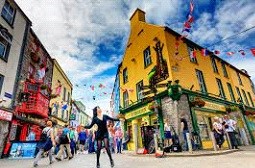 Galway, a harbour city on Ireland's west coast, sits where the River Corrib meets the Atlantic Ocean. The city's hub is 18th-century Eyre Square, a popular meeting spot surrounded by shops and traditional pubs that often offer live Irish folk music. Nearby, stone-clad cafes, boutiques and art galleries line the winding lanes of the Latin Quarter, which retains portions of the medieval city walls.
13.00hrs Depart Galway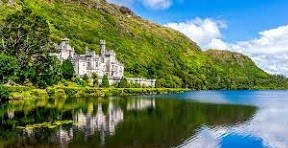 Travelling west via Connemara we visit Kylemore Abbey before heading to Westport
Nestled in the heart of Connemara, on the Wild Atlantic Way, Kylemore Abbey is a haven of history, beauty and serenity. Home to a Benedictine order of Nuns for the past 100 years, Kylemore Abbey welcomes visitors from all over the world each year to embrace the magic of the magnificent 1,000-acre estate.
17.30hrs Arrive at our suggested hotel
Castlecourt Hotel Westport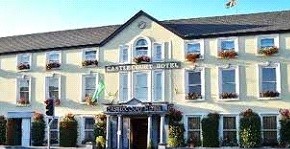 The family owned 4-star Castlecourt Hotel is located in the heart of Westport. It offers live music and dancing every night, a 20 m indoor pool, gym and spa and beautifully decorated rooms. The spacious rooms at The Castlecourt Hotel, Spa & Leisure all feature TVs and free WiFi. Some rooms have 4-poster beds. With an outdoor rock pool hot tub, the luxurious Spa Sula offers a range of massages, body wraps and beauty treatments. There is also a sauna, steam room and a fully equipped gym.
Dinner is your hotel this evening


Day Five
8th of September Friday
The Banshees of Inisherin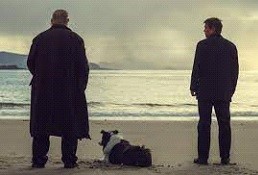 Winner of 4 BAFTA awards and nominated for 9 Oscars, this film features such stalwarts as Brendan Gleeson, Colin Farrell, Barry Keoghan and Kerry Condon. It is set in 1921 on an island off the Irish Coast and most of the filming was done on Achill Island.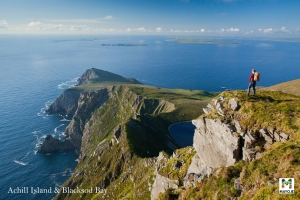 After a leisurely start to the day we head out to Achill and visit some of the locations, including Keem Beach. The afternoon will be spent on the island and on our return we stop in The Grainne Uaile pub in Newport for dinner and some traditional Irish Music.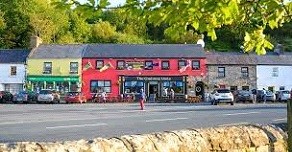 Welcome to the Grainne Uaile Pub. Situated in the beautiful village of Newport overlooking Clew Bay, it is named after one of Irelands most famous women, the pirate Queen 'Grainne Uaile'.
20.30hrs Depart Newport
21.00hrs Arrive Westport


Day Six
9th of September Saturday
12.00hrs After a leisurely start to the day we travel out to visit Ireland's Holiest
Mountain – Croagh Patrick.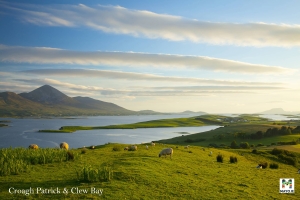 Croagh Patrick, nicknamed 'the Reek', is a mountain with a height of 764 m and an important site of pilgrimage in County Mayo, Ireland. The mountain has a pyramid-shaped peak and overlooks Clew Bay, rising above the village of Murrisk, several miles from Westport. It has long been seen as a holy mountain.
From Croagh Patrick we take the short drive to Glen Keen Farm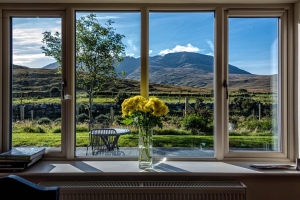 Due to its vast size, rich history, and natural beauty, Glen Keen  Farm is a one-of-a-kind destination in Ireland. This single  family owned sheep farm consists of a commonage footprint
that extends over 10,000 acres, making it one of the country's  largest operating farms. It is located within a European Uniondesignated Special Area of Conservation for its unique  habitats and wildlife. Found along the Wild Atlantic Way, Glen
Keen Farm is County Mayo's front door to the Delphi Valley,  Killary Harbour, and the world-renowned Connemara region.
We will have a sheepdog demonstration at the farm.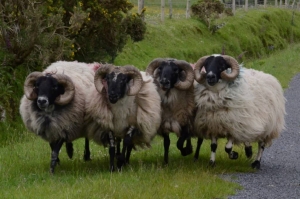 16.00hrs We return to Westport for an evening of music and "craic" at Matt Molloy's Pub.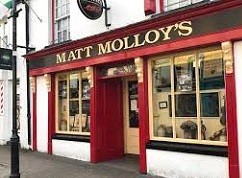 Due to its vast size, rich history, and natural beauty, Glen Keen  Farm is a one-of-a-kind destination in Ireland. This single  family owned sheep farm consists of a commonage footprint
that extends over 10,000 acres, making it one of the country's  largest operating farms. It is located within a European Uniondesignated Special Area of Conservation for its unique  habitats and wildlife. Found along the Wild Atlantic Way, Glen
Keen Farm is County Mayo's front door to the Delphi Valley,  Killary Harbour, and the world-renowned Connemara region.
Dinner is under your own arrangement this evening.


Day Seven
10th of September Sunday
08.30hrs We depart Westport with Athlone as our destination but not before takingin some more of Mayo's breath taking beauty as we head north west through Mulranny, Ballycroy National Park, Bangor Erris, Downpatrick before we the Ceide Fields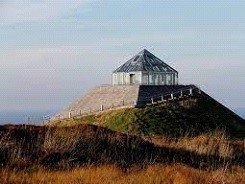 Beneath the wild boglands of north Mayo lies a system of fields, dwelling areas and megalithic tombs which together make up the most extensive Stone Age monument in the world. The stone-walled fields, extending over hundreds of hectares, are the oldest known globally, dating back almost 6,000 years. They are covered by a natural blanket bog with its own unique vegetation and wildlife. The award-winning visitor centre is set against some of the most dramatic rock formations in Ireland. A viewing platform on the edge of the 110-metre-high cliff will help you make the most of the breathtaking scenery. Come prepared with protective clothing and sturdy footwear, though. The terrain – and the weather – can be challenging.
From the Fields we travel to Foxford for some retail opportunity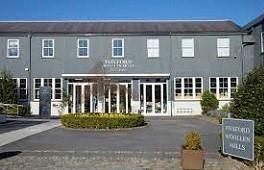 Over a century ago, Mother Agnes, the founder of our mill, stood on a bridge in the small Irish village of Foxford and contemplated a future with community and craftsmanship at its core. 130 years later, the people of Foxford are the beating heart of our mill. From design to warp to loom, the stories that make up our present are woven through our past. And in honour of our 130th year, we asked the people at the very heart of those stories to share them with us, in their own words.
Departing Foxford we head for our overnight in Athlone – suggested hotel, Sheraton Hotel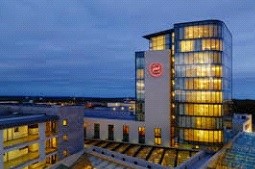 In Athlone's lively centre, this 4-star Sheraton Hotel has a 20 m pool, a luxury spa, free internet and free parking. Guests have spacious rooms and a stylish restaurant, 1 hours' drive from Dublin. Sirana Spa has 3 feature pools, a modern gym and a relaxation suite. There is a range of therapies and beauty treatments on offer.
All elegant rooms have a Sheraton Sleep Experience bed, flat-screen TV and a large private bathroom. Some rooms have floor-to-ceiling windows with views of Athlone and the River Shannon. La Provence Restaurant serves both classic Irish and international cuisine, prepared using the finest produce. Harvest Café offers informal dining, while Sheraton Bar has bar food and cocktails.
Tonight we take a short walk to Sean's Bar, definitely the oldest bar in Europe, if not the World. We will have a night of Irish Music and a bar-be-que on site.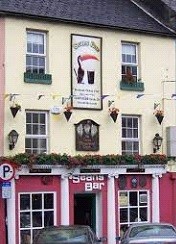 Earning the title of The Oldest Pub In Ireland, and perhaps soon The Oldest Pub in the World, Sean's Bar's history is a fascinating tale. Athlone, marks the site of what was once a great ford across the Shannon known as the Ford of Great Antiquity. At around 900 AD there lived a man called Luain Mac Luighdeach – Luain son of Lewy. It is known that he established an Inn close to "Áth Mor – The Great Ford". This Inn is today known as Sean's Bar! Luain acted as a guide to travellers who had to venture across the rapid torrent of the Shannon. A settlement grew up around the crossing point and in time the place came to be known by his name "Áth Luain" – the Ford of Luain which later became Athlone. In 1129, King Turlough O' Connor built the first wooden castle here to protect this settlement.
Sean's Bar has a detailed and documented history right back to 900AD. During renovations in 1970, the walls of the bar were found to be made of "wattle and wicker" dating back to the ninth century. Old coins which were minted by various landlords for barter with their customers were also found. The walls and the coins are on display in the National Museum. One section remains on display in the pub. Sean's Bar has been researched thoroughly by the Guinness Book of Records and proudly holds the record for "The Oldest Pub in Ireland" with an official dating of 900AD. Research is ongoing into the title of "The Oldest Pub in the World"; so far, nothing older has been found.


Day eight
11th of September Monday
09.00hrs Check-out our hotel and depart Athlone
10.30hrs On arrival in Dublin we have a Panoramic Tour of the City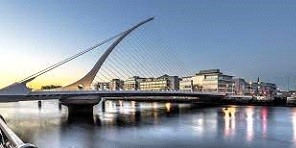 Welcome to Dublin, a city that's as intimate as a village and as friendly as an Irish pub. Framed by mountains, centred on a river and edged by a beautiful bay, the city's streets and alleys are filled with vibrant art and historic buildings, hip cafés and traditional "old man" pubs, as Dubliners call them. Walk the streets and you'll feel the energy of over 1,000 years of history, as echoes of the Vikings mix with buzzing boutiques, cobbled streets reverberate with the sounds of buskers, and 18th century parks play host to festivals, film and food markets.
A visit to Dublin is not complete without visiting the EPIC Museum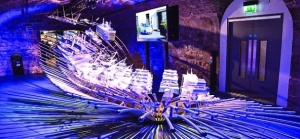 Epic Museum was Winner of Europe's Leading Tourist Attraction at the World Travel Awards 2019 & 2020.  You won't find leprechauns or pots of gold here, but you'll discover that what it means to be Irish expands far beyond the borders of Ireland through the stories of Irish emigrants who became scientists, politicians, poets, artists and even outlaws all over the world. Discover Ireland from the outside in and find out why saying "I'm Irish" is one of the biggest conversation starters, no matter where you are.
Our hotel for the next two nights is the Ashling Hotel.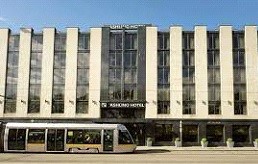 Overlooking the River Liffey, The Ashling Hotel is beside Heuston Station in Dublin. This 4-star hotel has beautifully decorated interiors, spacious rooms with free Wi-Fi, and a stylish bar. The Ashling is located just a 5-minute walk from Dublin Zoo and the Guinness Storehouse. A 5-minute journey on the LUAS tram brings you to the lively Temple Bar area. Decorated in warm tones, rooms have comfortable beds with crisp white duvets. Rooms include flat-screen TVs and in-room safes.
Dinner is under your own arrangement this evening.


Day nine
12th of September Tuesday
We have a morning at leisure in Dublin before we head over to the Guinness Storehouse this afternoon.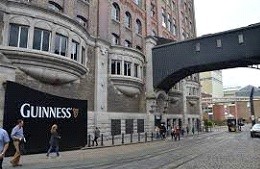 Join us at the Guinness Storehouse to experience the history, heart and soul of Ireland's most iconic beer. Explore the story of Guinness across the seven floors of our iconic building, before taking in the 360 views of Dublin city from Gravity Bar.
This evening we have our farewell dinner in Taylors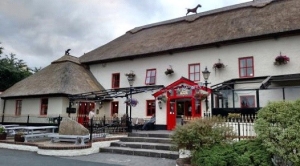 27.45hrs Transfer to Taylors Three Rock
18.30hrs Arrive Taylors Three Rock
Ireland's most loved pub and entertainment venue Taylors Three Rock involves a rip roaring evening of traditional Irish song and dance accompanied by a great selection of quality Irish food to delight your palate.
21.30hrs Depart Taylors Three Rock
22.00hrs Arrive hotel


Day ten
13th of September Wednesday
Return transfers to Dublin Airport will be dictated by flight times. Transfer time 40 mins.
1. Payment
All payments made under agreement are due on the date stated on the payment schedule below. All costs are quoted in €uros and will be paid to Celtic Horizon Tours in €uros.
Deposit €300 per person refundable until Sept 1st
By February 2nd 2024      25% part payment is due
By June 7th 2024 Final payment    Balance in full.
2. Addendum:
Should any changes occur to the Per Person Costs, the Inclusions/ Exclusions and/or Payment and Cancellation Schedule as stated in this agreement, CHT will issue an addendum which will outline the modified Terms and Conditons as agreed between CHT and the group leader
3. Cancellations:
(a) You should advise us of cancellation by recorded letter or fax as soon as possible. Cancellation of a booking is effective only when received in writing by CHT from the person signing the booking form. Deposits are non-refundable. (b) Please remember that many risks for cancellation (other than disinclination to travel) are covered by Travel Insurance generally. You are advised to clarify these particulars with your Insurance company.  (c) In the unlikely event of CHT having to cancel an excursion for any reason whatsoever, a full refund of all monies paid will be made, excluding monies already pre-paid to service providers, e.g. airlines, bus transportation, hotels, venues attractions etc.  Documentary evidence will be provided of any such payments.
4. Limitation of Liability: release: 
Celtic Horizon Tours (CHT) acts solely as an agent in the sale of travel-related services and tours.  CHT shall therefore not be liable for any breach of contract, failure to comply with any laws, or any intentional or negligent actions or injury to travel patrticipants, or travellers companions or group members.  Unles the term "guaranteed" is specifically stated in writing on your tickets, invoice, or reservations itinerary, CHT does not guarante any supplier's rates, bookings, reservations, connections scheduling, or handling of baggage or other personal effects.  CHT shall not be responsible for any insuries, damages, or losses caused to any group or group participant in connection with terrorist activities, social or labour unrest, mechanical, orconstructoon failures or difficulties, diseases, local laws, climatic conditions, abnormal conditions or developments, or any other 
Clients Initial___________   CHT__________________     
actions,, omisions, or conditions outside of CHT's direct control.  The group anr group participants will take part in the travel programme at their own risk.  The group and group participants assume complete and full responsibilty for, and hereby release CHT from, any duty of checking and verifying any and all passports, obtaining visa for the country or countries to be visited, vacinaions, or other entry requirements of each proposed traveller.  By accepting this proposal, the group and group participants voluntarily assume all risks involved in travel, whether expected or unexpected.  The group and group patricipants are hereby warned of the above risks as well as possible travel industry bankruptcies and medical and climatic disrutions, and the possibilty the group or group participants may be unable to travel as scheduled because of emergency or other cause.  The group and group participants represent and convenant that they can obtain travel insurance coverage against these risks, although there is no requirement that travel insurance be purchased.  Group and group participants that, unless included in the CHT package, they have adequate medical insurance coverage.   
Group and group participants hereby assume full responsibilty for all risks or injury or loss, which may result from group and group participants in the performance or tour and agree to indemnify, release, hold harmless, and forever discharge CHT, its o0fficers, directors, shareholders, affiliates, employees, agents, managers, independent contractors, and other representatives from and waive all claims, liabilities, demands, causes of action, and demands whatsoever that the group and the group participants or any third person has had, now may have or will have in the future with respect to accident, illness, injury, or death of any person, or damage to or loss or destruction of any property arising or resulting from the travel, performance or tour. 
For information concerning possible dangers at International destinations, visit the Advisory Section of the U.S. State Department website at wwe.travel.state.gov.  For medical information, check the website for U.S. Centers for Disease Control (CDC) at www.cdc.gov. 
5. Participant Waivers

: 
It is understood that all group participants in this tour must sign or have their authorised parent or guardian sign a Booking Form and Waiver Agreement.  Failure for any group participant to sign and return the booking form no later than the date of the last payment is due shall result in the immediate cancellation of ay reservations for that group participant.  No refunds will be provided if cancellation is the result of the group participant's failure or refusal to sign the booking form.   It is the responsibility of the Group Leader to inform all participants of this requirement. 
6. If you have a complaint:
Should you have a complaint, please inform the CHT representative at the earliest opportunity. CHT will do everything possible to help you. If the matter cannot be put right on the spot, please follow it up with a letter to CHT within 28 days of returning from your excursion as CHT will not accept liability for claims received outside this period. CHT normally manages to agree an amicable settlement of the few complaints received. In the unlikely event that an agreed settlement cannot be reached, you can take advantage of the special Arbitration scheme outlined in Condition 7.
7. Governing Law;
Arbitration: 
The parties to this agreement stipulate that this agreement shall be considered to have been entered into and performed in Dublin, Ireland, that any interpretation of the terms of this agreement shall be made under Irish Law.  If any question of difference shall arise between the customer and CHT regarding this contract or by 
Clients initial___________________CHT_________________ 
the construction thereof, the same shall be referred to the award and final determination of an Arbitrator to be agreed upon by the customer and a panel of not less than three practicing solicitors of more than seven years standing, nominated by CHT's Legal Advisors, such arbitrators to have all the powers of Arbitration arising under the provisions of the Arbitration Acts. Such Arbitration must take place prior to any legal proceeding issued unless the right to Arbitrate is waived by CHT. The venue for such Arbitration shall be Dublin and appropriate law shall be Irish Law. At any such Arbitration, the customer shall admit into evidence the written statement of any Agent, Representative, Courier, Hotelier, or other like person for the purpose of proving matters of fact. This clause is specifically intended to minimise the cost of Arbitration. 
8. Full and complete agreement; severability

:
This agreement constitutes the full and exclusive expression of the agreement between the parties, and any modification of the terms set forth in this agreement shall be effective only if in writing and signed by both parties.  If any provision of this agreement is declared null or unenforceable, such provision will be severed from this Agreement, which will otherwise remain in full force and effect.
9. Warrant of Authority 
The person signing this agreement of behalf of the group warrants that he or she has the full and complete authority to bind the group and each group participant to the terms and conditions in this agreement.
By signing below, the parties agree to the terms and conditions herein